Contact the Mass General Cancer Center
Contact us to make an appointment or to learn more about our programs.
The Mass General Cancer Center network extends throughout New England and provides patients with comprehensive, community-based cancer care plus access to the expertise of world-renowned cancer sub-specialists.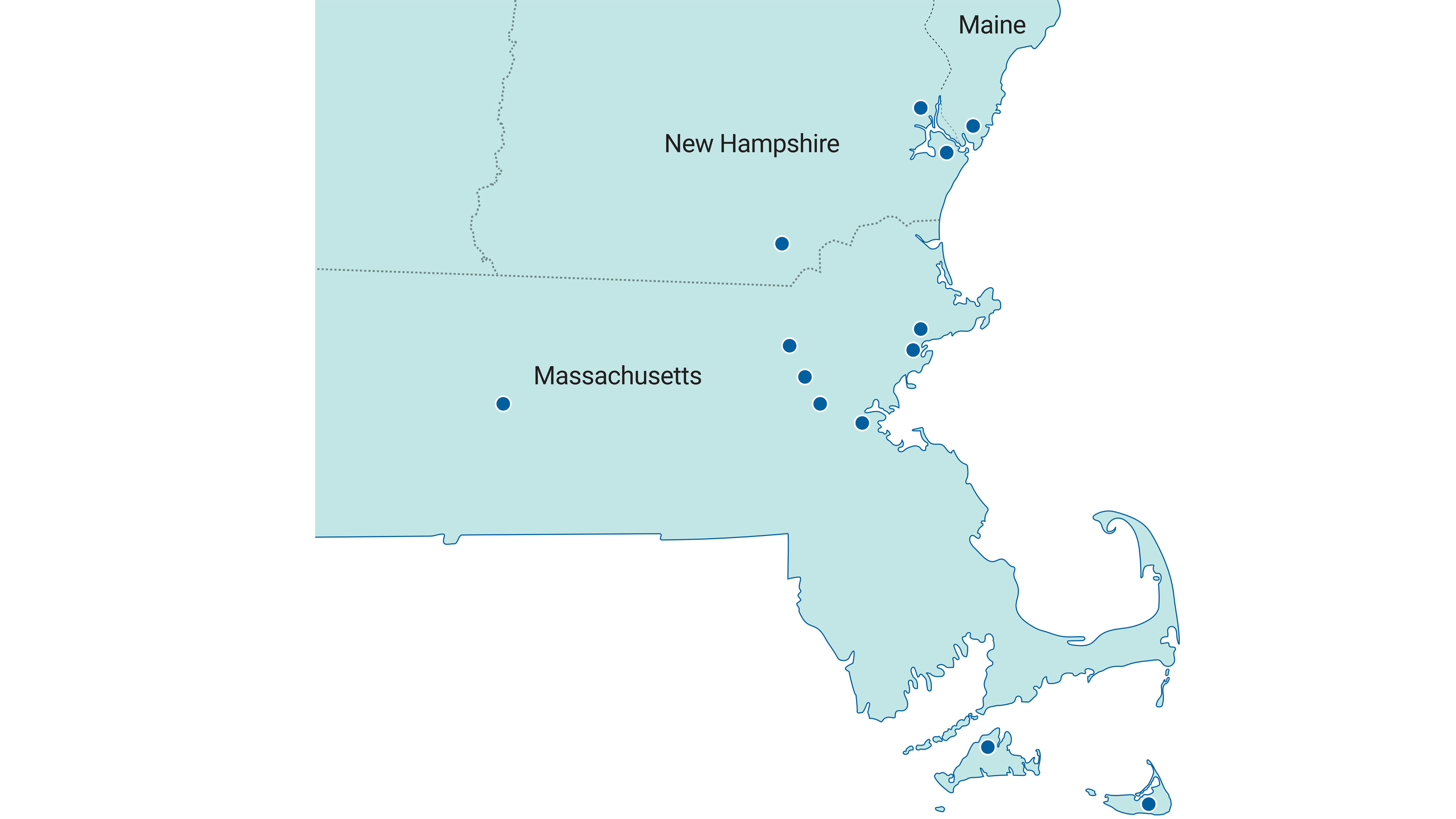 Through these collaborations, patients have access to the latest cancer treatments and targeted therapies, early phase clinical trials, timely referrals for second opinions, and improved coordination of care. Additionally, patients benefit from jointly sponsored community outreach, cancer education, and quality initiatives, enhancing the strength of the community-based cancer resources at each location.
Click on a location below for more information about what is offered at that particular site.
Mass General Cancer Center Locations
Community Partner Licensed
Exeter, NH
The Mass General Radiation Oncology and Hematology/Oncology Services at Exeter Hospital bring a world-renowned team of radiation oncology and hematology/oncology physician and nurse practitioner specialists to the local community. In addition to radiation and oncology services, Mass General surgeons participate in thoracic and gastrointestinal surgical oncology tumor boards.
Manchester/Nashua, NH
Mass General Cancer Center and the SolutionHealth Cancer Institute collaborate to provide convenient care from gynecologic oncologists, medical oncologists and hematologists, and thoracic and breast surgeons. The facility offers breast reconstruction and nipple sparing surgery and has on-site gynecologic oncologists. Patients have access to Mass General clinical trials and ground-breaking research on new types of cancer treatment, as well as to genetic testing and counseling.
York, ME
Through collaborations with the Mass General Cancer Center, a team of experts at York Hospital offers access to specialized care services such as gynecologist oncology, genetic testing, and thoracic surgery.
Video
Billy Costa talks with Dr. Robb Friedman, Dr. Amy Comander, and Dr. Larry Blaszkowsky about how the care teams at Mass General Cancer Center's community locations provide patients with access to world-class cancer care close to home.
Supportive Care Services
Our support programs can help patients and their families cope with the challenges of a cancer diagnosis.
The Story Project
The Story Project is our effort to capture the stories from the people in our Mass General Cancer Center community.
Contact Us
Contact the Mass General Cancer Center to make an appointment or learn more about our programs.