treatment
treatment
blood-disorders;sickle-cell-disease;aplastic-anemia
massgeneral-hospital-for-children;hematology-oncology;cancer-center
pediatrics
h
true
Pediatric Hematology & Oncology
The Division of Pediatric Hematology and Oncology at Mass General for Children provides personalized multidisciplinary, state-of-the-art care to children of all ages with malignancies and disorders of the blood.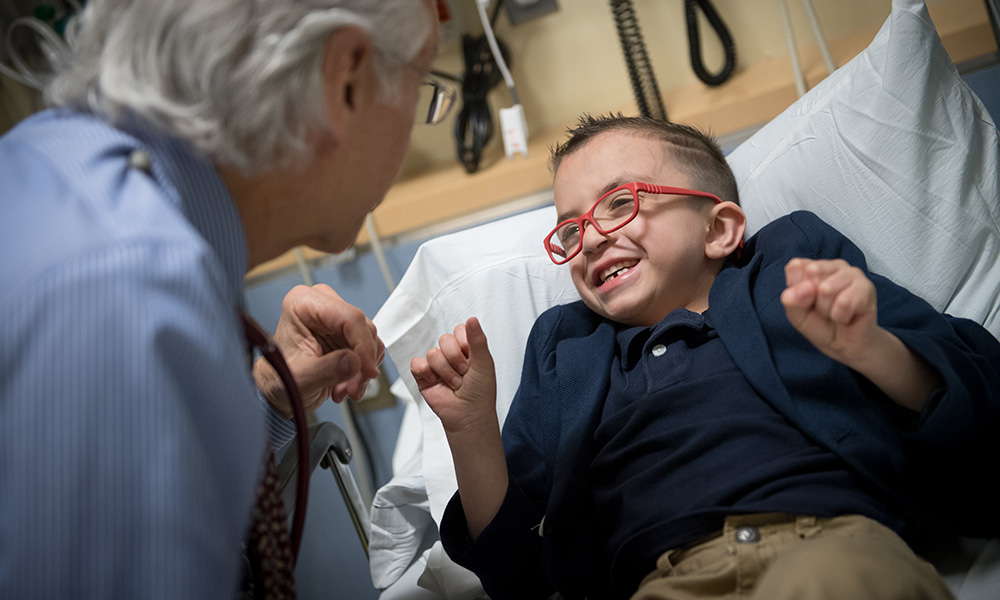 Contact Information
MGfC Division of Pediatric Hematology and Oncology
Yawkey Center for Outpatient Care, Suite 8B
32 Fruit Street
Boston, MA 02114

Phone: 617-726-2737
Fax: 617-724-0702
Near public transit
Accessible
To schedule an appointment with a MassGeneral for Children pediatric specialist, please call 888-644-3248 or complete our online appointment form to request an appointment.
Physicians may call 888-644-3211 or use the online referral form and the Access & New Appointment Center will call your patient within one business day.
Care During COVID-19
Our dedicated physicians, nurses and staff are committed to providing the best possible care for children. We have taken unprecedented steps to ensure office visits and procedures are welcoming and safe. Your child's health and safety is our top priority. Learn more.
Overview
The Division of Pediatric Hematology and Oncology is a comprehensive children's program backed by the full resources of Massachusetts General Hospital and close collaboration with adult colleagues in the Cancer Center. Doctors who specialize in the care of children provide personalized, state-of-the-art care to children of all ages with malignancies and disorders of the blood.
The Pediatric Hematology Program offers specialized expertise in anemias, including sickle cell disease, thrombocytopenia, neutropenia, aplastic anemia and other bone marrow failure syndromes. We also offer expert consultation and management of bleeding and clotting disorders including von Willebrand disease, hemophilia, thrombosis and stroke.
The Pediatric Oncology Program offers multidisciplinary, comprehensive and family centered care to children with all types of cancer. Our clinical staff has expertise in treating leukemias, lymphomas, common solid tumors of childhood including Wilms tumor, neuroblastoma, bone and soft tissue sarcomas, retinoblastoma, and brain tumors.
A Coordinated Multidisciplinary Approach
The patient care team is led by a pediatric hematologist-oncologist. Depending on the type of tumor and treatment plan, other members of the team may include a surgical specialist in pediatric surgery, thoracic surgery, neurosurgery, urology, otolaryngology, orthopedics, orthopedic oncology, ophthalmology, oculoplastics or plastic surgery. Patient considered for radiation therapy (proton beam, intensity modulated or other types) are evaluated by pediatric radiation oncologists. Our team also includes senior-level oncology-certified nurses, nurse practitioners, child psychiatrists, social workers, child life specialists, nutritionists, physical therapists and rehabilitation medicine specialists.
Patient Resources
View the full collection of patient resources from Pediatric Hematology and Oncology at MGfC
Active Clinical Research Program Ensures State-of-the-Art Treatment
Our patients have access to the latest clinical trials available in cancer research and hematology. We are members of the Children's Oncology Group (COG). Learn more about the Children's Oncology Group and childhood cancer.
Laboratory research is currently focusing on the molecular pathogenesis of malignancy and the interaction of blood vessels and platelets.
Our Team
The Division of Pediatric Hematology and Oncology works across medical disciplines to help you and your child.
Schedule a Virtual or Telephone Visit
Care teams across Mass General for Children are available to provide care via phone or online video visits. Call 888-644-3248 to learn more.
COVID-19 Resources for Families
Articles and Q&As from providers across MGfC on how to take care of your children and yourself during the COVID-19 pandemic.
Request an Appointment
Contact Mass General for Children to schedule an appointment with one of our specialists.
Mass General Brigham Patient Gateway
Secure, convenient online access to your child's health information whenever you need it.