professional-education
professional-education
residency
massgeneral-hospital-for-children
pediatrics
p
true
Mass General for Children
Pediatric Residency Program
The Massachusetts General Hospital Pediatric Residency Program aims to train the next generation of pediatricians to practice innovative, evidence-based multidisciplinary medicine.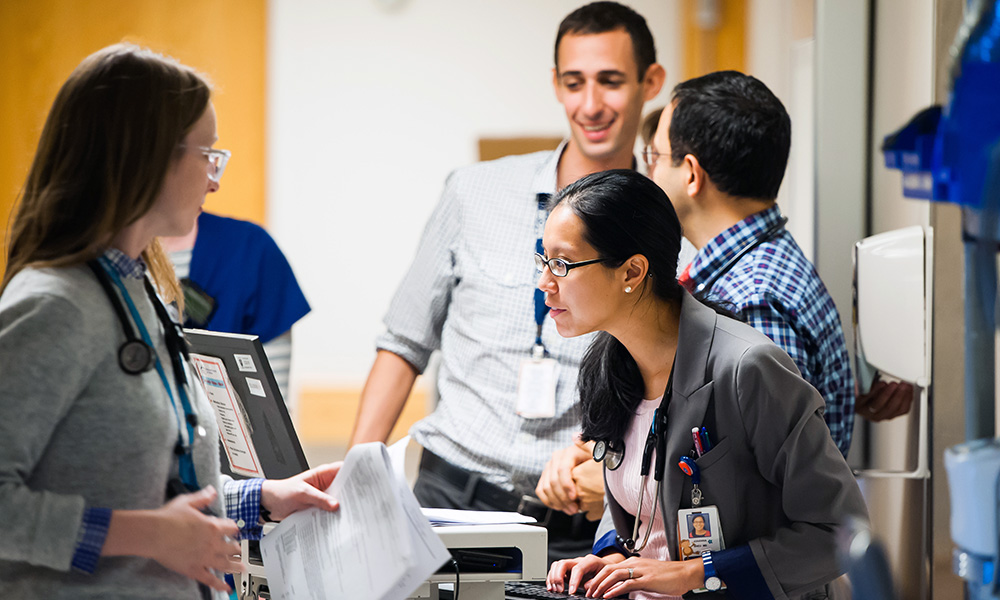 Contact Information
MGfC Pediatric Residency Program
175 Cambridge Street
Boston, MA 02114

Phone: 617-726-2687
Fax: 617-726-5961
Explore This Residency Program
Mass General for Children (MGfC) is a children's hospital within a world-class hospital. You can glimpse the depth and breadth of the patients by browsing the NEJM Case Records of the MGH. Leveraging the resources of this academic center, we are able to meet the diverse and unique learning, research and clinical interests of each of our incredibly talented residents. We do that within a close-knit community where resident support and mentorship are the cornerstones of a safe and productive learning environment. We as a program are invested in your individual and very personal experience of residency.
A Program Designed to Meet Your Individualized Needs
Academically, you are encouraged to design residency to meet your individualized needs. Rather than track residents into pre-defined pathways, we provide an opportunity for residents to explore their diverse interests and create their own path in residency, tailored to individual learning and career needs. Nine months of our residency training are determined by the resident. Residents choose even the "core" subspecialty months, rather than being simply scheduled for a required inpatient subspecialty month. Three months can be completely self- designed and we have had residents create incredibly rich and diverse rotations such pediatric care on a ship-hospital in Cambodia, comparative zoology with veterinarians, creating an emergency medicine curriculum for a brand-new residency program in rural Kenya and working with the Chief Quality Office of the hospital. At MGfC, one-size does not fit all and no two residents have the exact same training experience because no two residents are exactly the same.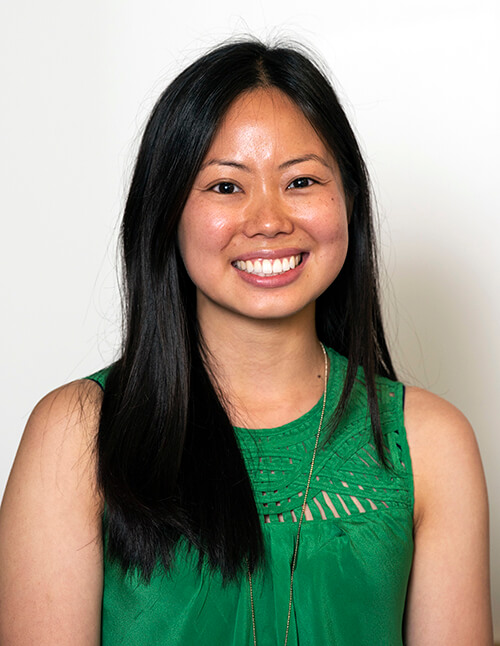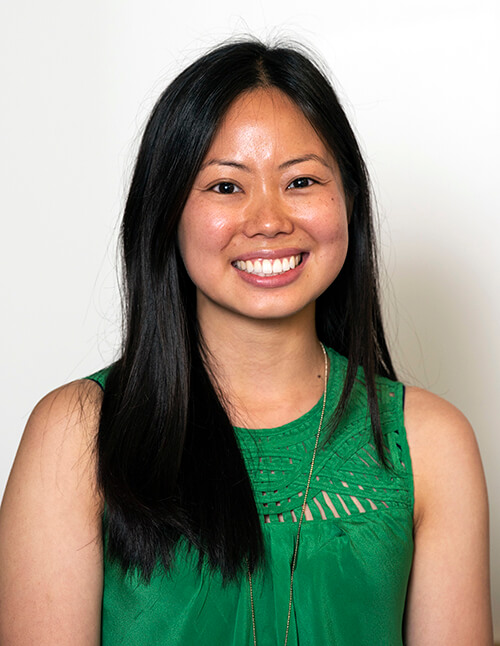 MGfC is truly my 'perfect fit' – an incredible combination of clinical training, research opportunities, mentorship and focus on advocacy and caring for underserved populations.
Marielle Young, MD
Former Chief Resident
A Program Committed to Diversity in All Aspects of the Word
MGfC strives to create a welcoming environment for its residents, faculty, staff, and patients. As an MGfC resident, you will have the privilege of caring for patients from a wide range of different racial, ethnic, and socioeconomic backgrounds at our main campus in Boston, our community health centers in Charlestown, Revere and Chelsea, and our affiliated community hospitals in Cambridge, Salem and Newton. MGH Chelsea Health Center, for example, cares for one of the largest and most diverse immigrant populations in all of Massachusetts! Our residents and staff come from many different backgrounds as well. We cannot think of a more perfect example than our own Pediatric Cardiology Department, where our staff of doctors is fluent in at least 5 different languages! MGfC is committed to recruiting and supporting a multicultural workforce of pediatricians to reflect our beautiful and diverse patient population. We are proud to collaborate with the MGH Center for Diversity and Inclusion as well the LGBT Employee Resource Group to promote and support underrepresented minorities in medicine throughout Mass General. Learn more about diversity and cultural competence at Mass General for Children.
Unparalleled Access to Senior Faculty
Our approach to mentoring is multi-faceted and is adjusted to the needs of the residents. Early in the intern year, residents participate in a mentorship workshop, complete mentoring self-assessments and have an in-person meeting with the chief residents who then work with the administrative team to carefully choose a mentor for each resident based on his/her self-identified interests and mentorship needs. There are group mentoring sessions designed to help residents choose scholarly projects and meet faculty doing research in a speed-dating type model. In the fall we have faculty and graduates come together in the evening for discussions over dinner about careers in acute care, hospital medicine, pediatric medical subspecialties and primary care. These are but a few examples of ways that we try to actualize the view of mentorship as a network, not a single person. At MGfC, not only are you working in a world-class environment, but you are working directly with the world-class leaders.
The Resources of Massachusetts General Hospital
Institution-wide resources within the Centers of Expertise allow trainees numerous opportunities including small group workshops, funding opportunities, and access to faculty leaders to refine their skills in the areas of Global and Humanitarian Health, Health Policy and Management, Medical Education, Patient Care Quality and Patient Safety and Research). Through initiatives such as this, you gain access not only to leaders in the field of pediatrics, but leaders in medicine across specialties and you become part of a broader community of graduate medical trainees at Mass General and Mass General Brigham. With the current speed of medical advancements, pediatrics can no longer stay insular and pediatricians must work in a broader context of medicine.
Life-Long Relationships
The motto of care for patients at MGfC is "Once we start caring, we never stop;" it is meant to reflect the value we place in caring for patients from in utero through birth, childhood, adolescence, adulthood and end of life. Once a patient at Mass General, always a patient at Mass General. Similarly, once you've joined the MGfC Residency family, you will always be a part of it. Graduates routinely return to "catch up" and share news of personal life events with program directors and faculty, but even more importantly, to receive mentorship as their careers unfold.. It is not a coincidence that many of our graduates over the years have stayed or come back to the MGfC at some point in their careers, and we take pride in the extended family of MGfC pediatricians we are creating.
Meet Our Residents
Meet Our Residents
Meet Our Alumni
Program Leadership
Program Directors
Shaun Fitzgerald, MD
Program Director
sffitzgerald@mgh.harvard.edu
Dr. Shaun Fitzgerald is a pediatric hospitalist at Massachusetts General Hospital and the Program Director for the Pediatrics Resident Program at Mass General for Children.

He was born and raised in the Greater Boston Area and attended College of the Holy Cross as an undergraduate, before moving to Chicago to complete his service in AmeriCorps working for the National AIDS Fund. He returned to Massachusetts to complete medical school at UMass Medical School followed by his pediatric residency at MGfC. He also completed a pediatric hospital medicine fellowship at Kaiser Permanente in Oakland, CA, simultaneously earning an MPH from UC-Berkeley. Dr. Fitzgerald finds that caring for hospitalized children imparts a deep sense of meaning to his practice which he enjoys sharing with trainees. In addition, he finds that the inpatient care space provides a rich learning environment for trainees to develop not only knowledge in the management of acute and chronic illness, but also the skills necessary to provide effective patient and family-centered care.

Outside of clinical practice, Dr. Fitzgerald actively participates in process improvement projects with residents, leveraging their experience in front line care and desire to innovate care delivery to bring about better and more equitable care for children at MGH and beyond. Dr. Fitzgerald's academic interests also lie in antibiotic stewardship among hospitalized pediatric patients. In all capacities, the times spent working with, teaching, and learning from residents have been among Dr. Fitzgerald's favorite and most rewarding experiences. He is very excited to help lead the new generation of MGfC trained pediatricians.
Ariel Frey-Vogel, MD
Associate Program Director
afrey@mgh.harvard.edu
Dr. Ariel Frey-Vogel grew up in Acton, MA, and went to Harvard University for her undergraduate degree. She then spent two years teaching third grade in Baltimore City with Teach for America while obtaining her Masters in the Art of Teaching at Johns Hopkins University. She returned north for medical school at Yale and did her residency in combined internal medicine and pediatrics at MGH, acting as chief resident for the program in her fourth year. She was thrilled to be asked to stay on after residency and spends a quarter of her time as an Associate Program Director for the MGfC Pediatric Residency Program and half practicing primary care med-peds at an MGH community site in Everett. She recently took on the role of Director of Curriculum Development and Evaluation for the MGfC Department of Pediatrics and is heading the new Pediatric Education, Innovation, and Research Center at MGfC in that role. She enjoys spending time with her third year med student husband and two young children.
Daniel Hall, MD
Associate Program Director
daniel.hall@mgh.harvard.edu
Dr. Daniel Hall is originally from Derry, NH, about an hour north of Boston. He studied Biology and Physics at Bowdoin College in Maine. The year after graduation, he worked closely with the college and the Brunswick community as an Americorps volunteer coordinating local mentoring programs for elementary and middle school aged children. He returned to Boston to attend BU School of Medicine and completed his pediatrics residency at MGH, staying on for an additional year as a chief resident. He currently works in primary care at the MGH Revere Healthcare Center. He continues to teach residents on the wards as well as the resident as educator program. Dan lives in Boston with his wife who works in education, his two kids, and their Germam shepherd mutt. Outside of work, he is an avid runner and enjoys the challenge of maneuvering around the city streets behind the wheels of a baby jogger.
Katherine Sparger, MD
Associate Program Director
ksparger@mgh.harvard.edu
Dr. Katherine Sparger is originally from the Midwest and grew up in Wisconsin and Ohio. She attended Miami University as an undergraduate and the University of Chicago for medical school. She was a pediatric resident and chief resident in the Boston Combined Residency Program. Kate subsequently pursued neonatology training in the Harvard Neonatal-Perinatal Medicine Fellowship Program where she served a year as chief fellow. Post-fellowship, Kate was invited to stay on as faculty in the neonatal intensive care unit at MGH. Kate joined the MGfC Pediatric Residency Program as an Associate Program Director in 2014. Professionally, she is interested in medical education, simulation, and is currently working on developing and organizing scholarship opportunities for residents. Outside of work, she enjoys spending time with her husband and 3 year old daughter.
Program Coordinators
Leslie Bretón
617-726-7782
Medical Education Coordinator
lbreton@partners.org

A Cinematic Arts & Technology graduate of CSU, Monterey Bay, Leslie has been applying her stage, film, and event production & management skills to Medical Education since 2010. Her career in MedEd began at Stanford University's School of Medicine: Standardized Patient Program. She moved to Massachusetts in 2014 and joined the MGfC Residency Coordinator Team, November of 2019. Leslie manages the program's simulation calendar; Resident recruitment, credentialing, certification, onboarding, and orientation; along with alumni relations. She dedicates herself to being an ally for marginalized and underrepresented communities; loves painting, spending time with her family, and deeply loves her two hometowns of Cali, Colombia and the Bay Area.

Matthew Brown
617-643-8388
Medical Education Coordinator
mbrown93@mgh.harvard.edu

In 2018 Matthew graduated from Lasell University in Newton Massachusetts with a concentration in Business Management. Prior to joining the MGfC Residency Coordinator Team in 2021, he served as a Lead Program Coordinator at Mass Hire South Shore for the YouthWorks Career Readiness Program for three years. Matthew is in charge of ambulatory rotation scheduling, education scheduling & tracking, and CCC coordination. He enjoys spending time with family and friends, going out to eat, and as a huge Boston Celtics fan, he loves going to see them play at the TD Garden.
Chief Residents

Stephanie Lie, MD
Boston University – Boston, MA
MGHPediatricChiefResidents2@partners.org
Steph grew up in Framingham, Massachusetts and moved all the way to Boston to attend college at Boston University where she majored in Human Physiology in the Sargent College of Health and Rehabilitation Sciences, which was integrated with a liberal arts curriculum in the Kilachand Honors College. She remained at Boston University to attend medical school where she explored family medicine, but ultimately realized that pediatrics and primary care were her true passions, and she's continued to foster those passions during her residency at MGfC. Steph is excited to be serving as a pediatric chief resident and will be pursuing a career in primary care the following year. In her free time, she enjoys triathlon training and racing with her partner, collecting stamps in their National Park Service Passport, and visiting all the best breweries in New England!

Mallory Mandel, MD, MPH
Tufts School of Medicine – Boston, MA
MGHPediatricChiefResidents2@partners.org
Mallory was born and raised in Los Angeles, California. She graduated from the Johns Hopkins University with a bachelor's in public health studies. Her interests include pediatric advocacy, social determinants of health and increasing access to health care for all.  She moved to Boston in 2013, where she completed both her MPH in Health Policy and Management and medical degree training from the Tufts School of Medicine. Mallory is honored and thrilled to be serving as one of the pediatric chief residents this year. In her free time, she enjoys running along the Charles River, hiking, listening to musicals, and battling family and friends with word puzzles like Wordle and Bananagrams.  

Christine Martin, MD
University of Massachusetts Medical School
MGHPediatricChiefResidents2@partners.org
Curriculum
We train physicians in all aspects of general pediatrics with an emphasis on graduated autonomy and individualized training. With mentorship, you choose your own subspecialty electives and create your own individuated curriculum rotations. Our goal is to prepare you for a lifetime of service to children whether you choose a career as a generalist or as a pediatric specialist. Consequently, our residents experience the full range of the practice of pediatrics including community health clinics and private practices, community hospitals and world-renowned quaternary care centers. Our graduates enter all fields of pediatrics and we value the chance to train both community-oriented primary care pediatricians and subspecialist pediatrician scientists.
Pediatric Residency Rotations
Learn more about our rotation directors and faculty.
Resident Community
One of the best things about the Mass General for Children Pediatric Residency is the people!
Each year, the residency program gets together for multiple exciting social activities, taking advantage of the incredible city of Boston around us as well as the beautiful New England countryside that surrounds the city on three sides.
Specifically, we have official activities hosted by our Wellness Committee throughout the year, most recently including peach and apple picking, wine tasting at Nashoba Valley Winery, drinks and appetizers at resident homes, picnics on the Charles River, bowling at Sacco's with gourmet brick oven pizza, hiking on Mt. Wachusett,
social gatherings at the program director's house, and many more. And there are plenty of unofficial resident-initiated activities throughout the year because we just like to hang out with each other outside of the hospital! We have so much fun together and we can't wait to share it all with you!
Here are some quotes from current residents when they were asked about the Resident and Community life at MGfC:
"After my first day of intern orientation, my first thought was: wow, this decision was the best I've ever made." –An MGfC Intern
"I love my life at MGfC! Residents ahead of me told me that they think of MGfC as another family and very quickly into intern year I understood exactly what they meant. These are my people. While so many fun memories have occurred outside the hospital (Red Sox games, many great meals out, resident happy hours, the list go on),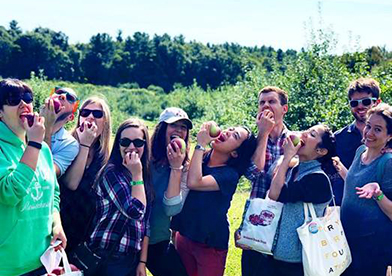 it's the camaraderie within the hospital and within our program that makes it so special. This is a program that looks out for each other, lifts one another up when you need it, and at its core, helps you become the pediatrician that YOU want to be. Residency is a challenging time no matter where you go, feeling supported and valued and having a great time while doing so has made all the difference." –An MGfC Junior Resident
"I love my co-residents because we always have each other's backs- always lending a hand to help or support each other." –An MGfC Senior Resident
As you can see, we love MGfC and hope you will too!
Alumni
The Mass General for Children Alumni Association
Medical alumni of the residency and fellowship programs at Mass General for Children have gone on to pursue excellence in pediatric medicine in hospitals across the United States and around the world. Many have assumed leadership roles in clinical practice and research.
We encourage you to use this site to learn about alumni events and to stay connected with the hospital and your fellow alumni. For more information, please email MGfCalumni@partners.org.
Meet our alumni
Sign Up Now
To learn about alumni events including speakers and receptions at national conferences, please sign up for the alumni association.
How to Apply
Application Requirements
The Pediatric Residency participates in the Electronic Residency Application Service (ERAS) . Only applications submitted through ERAS will be considered
Applicants should have no more than 3 letters of recommendations from faculty who know them well.
Must have successfully completed their USMLE Step 1 to be considered for an interview
USMLE Step 2 must be successfully completed by the close of the match and is not a requirement for interview selection.
We respectfully request applicants not re-send their applications via email
Interested applicants should explore the MGfC Pediatrics Residency Recruitment page.
The Pediatric Residency Program offers the following:
A three-year categorical pediatrics program (NRMP 1261320C0)
A one-year preliminary pediatrics program prior to advanced training programs, such as dermatology, radiology, anesthesiology, etc. (NRMP 1261320P0)
A two-year combined Pediatrics and Child Neurology program linked to ongoing training at MGH (NRMP 1261320P1) These slots are linked and only available to those who match at MGH. Inquiries about Child Neurology are generally directed to that program and we interview jointly with them.
Questions regarding application requirements, important deadlines or PGY-2/PGY-3 positions should be directed to
Leslie Bretón
Residency Recruitment Coordinator
residencyrecruitment@partners.org
Phone: 617-726-7782
Application Deadline
Due to the change in ERAS scheduling, the application deadline for the Pediatric Residency Program is October 2, 2022.
Interview offers are typically sent out approximately 2 weeks after applications become available, to allow time for a holistic review of your application. All decisions are sent out at the same time and those invited to interview have at least 48 hours in which to respond without any risk of getting a less desirable interview date.
The Pediatric Residency Program offers the following:
A three-year categorical pediatrics program (NRMP 1261320C0)
A one-year preliminary pediatrics program prior to advanced training programs, such as dermatology, radiology, anesthesiology, neuroscience track child neurology, etc. (NRMP 1261320P0)
International Graduates
If you are an international medical school graduate and wish to apply, please contact the Educational Commission for Foreign Medical Graduates (ECFMG) to submit your ERAS application. We sponsor J-1 visas. In some situations, we'll consider sponsoring H1B visas, and applicants have to have passed USMLE Step 3 prior to the ROL deadline to be considered for an H1B.
Visiting Clerkship Program
The Visiting Clerkship Program (VCP) is designed to increase medical student awareness of opportunities in academic medicine, to increase student consideration of academic training programs for internship and residency, and especially, to increase the number of national minority students applying to hospital training programs affiliated with Harvard Medical School.
Resources for Applicants
Mission
The mission of the Mass General for Children Pediatric Residency Program is "To develop a diverse group of independent, innovative pediatric leaders through education and personalized mentorship in a supportive academic learning environment committed to excellence in family centered clinical care, research, and advocacy" We aim to train the next generation of pediatricians to practice innovative, evidence-based, multi-disciplinary medicine.
Our training program teaches residents to provide state-of-the-art patient care in diverse settings. At Mass General for Children (MGfC), residents work in "a hospital within a hospital," allowing them to leverage the resources of one of the oldest general hospitals in the world. While at our community hospital sites (Newton-Wellesley Hospital and Cambridge Health Alliance), they provide expert care in neighboring communities, in conjunction with MGfC specialists, close to patients' homes, easing the burden of illness for families. It also affords residents the opportunity to learn how to recognize disease at its first presentation in the community and how to identify children who need an increased level of care. Our residents then learn how to care for children who require more specialized or intensive care when they rotate through our state-of-the-art 18-bed NICU and 14-bed PICU at MGfC. The MGfC Pediatric Emergency Department is also an incredible learning environment as the only center in the region with simultaneous designations as a level I adult trauma and burn center and level I pediatric trauma center.
Residency Program
The bedrock of general pediatrics training allows our residents to explore varied career opportunities and prepares them to achieve extraordinary professional success. Our graduates are some of the most trusted primary care providers in their communities and some of the region's top subspecialists. About half of our graduates continue their training in the most competitive fellowship programs in the country.
Our residents are a diverse group of extraordinary individuals who form a tight-knit community and excel in many areas above and beyond pediatrics. We have an extraordinarily active advocacy group that has been honored with several awards including the prestigious national Anne E. Dyson Child Advocacy Award. Many of our residents are involved in the MGfC Global Health Program. Residents enjoy each other's company outside of medicine as well (To learn more about resident life, visit the Resident Life and Community tab.)
We hope that you'll enjoy learning more about our program. We look forward to learning more about you through the application and interview process.
Faculty Rotation Directors
Pediatric Hospitalist Service
Kerstin Zanger, MD
Ann Kao, MD

Pediatric Emergency Department
Ari Cohen, MD

Pediatric Intensive Care Unit
Ryan Carroll, MD

Neonatal Intensive Care Unit
Kate Sparger, MD

Newborn Services
Giuseppina Romano-Clar, MD
Katherine Darci, MD

MGfC at Newton-Wellesley Hospital
Shilpa McManus, MD

MGfC at Cambridge Hospital
Pooja Rutberg, MD
Anita Hurwitz, MD

Adolescent Medicine
Kathryn Brigham, MD

Pediatric Allergy/Immunology
Paul Hesterberg, MD

Pediatric Cardiology
Oscar Benavidez, MD

Child Protection
Alice Newton, MD

Pediatric Dermatology
Daniela Kroshinsky, MD

Development and Behavioral Pediatrics
Yamini Howe, MD

Pediatric Endocrinology
Lynne Levitsky, MD

Pediatric Gastroenterology
Sarah Kadzielski, MD

Genetics and Metabolism
Paula Goldenberg, MD

Global Health
Ryan Carroll, MD

Pediatric Hematology/Oncology
Lauren Boal, MD

Hospice and Palliative Care
Patricia O'Malley, MD

Pediatric Infectious Disease
Mark Pasternack, MD

Pediatric Nephrology
Weizhen Tan, MD

Pediatric Neurology
David Dredge, MD

Pediatric Otolaryngology
Christopher Hartnick, MD

Pediatric Pulmonology
Anna Cook, MD

Pediatric Radiology
Randheer Shailam, MD

Pediatric Rehabilitation Medicine
Emily Kung, MD

Pediatric Rheumatology
Holly Rothermel, MD

Pediatric Sleep Medicine
Bernard Kinane, MD

Pediatric Sports Medicine
Jeff Kreher, MD

Pediatric Surgery
Daniel Doody, MD
Video: Graduate Medical Education at Mass General
Residents and fellows talk about their experiences here, including culture, mentorship opportunities and commitment to community health.
Welcome Applicants!
We are delighted that you are considering Pediatrics residency training at the Mass General for Children.
Diversity & Cultural Competence
Mass General for Children is committed to creating a welcoming environment for its residents, faculty, staff, and patients.