professional-education
professional-education
fellowship
heart-center;cardiology;medicine
c
true
Corrigan Minehan Heart Center
Cardiovascular Disease Fellowship
The Cardiovascular Disease Fellowship Program at the Massachusetts General Hospital Corrigan Minehan Heart Center, cardiology's core fellowship program, is a three-year ACGME training program.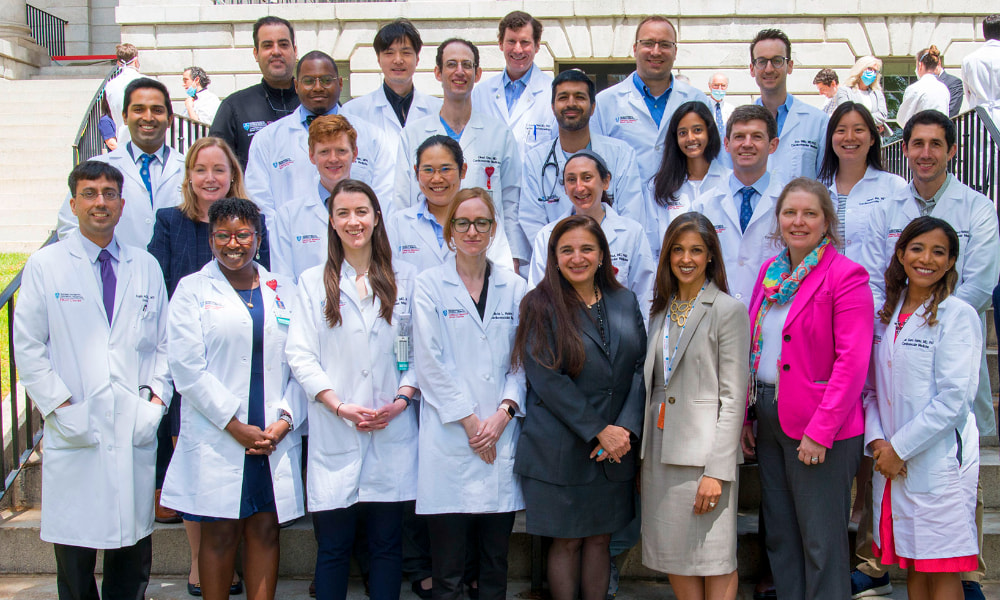 Contact Information
Cardiovascular Disease Fellowship
Corrigan Minehan Heart Center
55 Fruit Street
Boston, MA 02114

Phone: 617-724-4126

Email: vdistefano@mgh.harvard.edu

Our Mission: The Next Generation of Leaders
We train leaders by providing rich clinical training guided by a diverse, world-renowned faculty.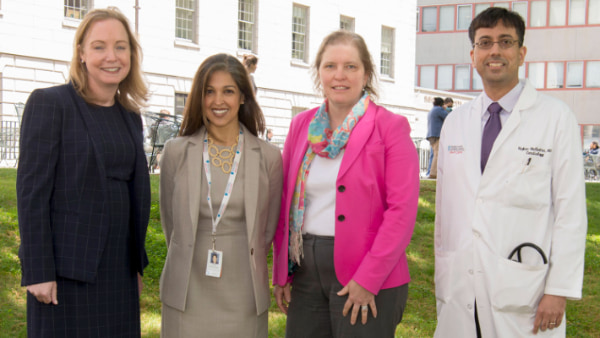 We train leaders by providing an inspirational & engaging learning environment spanning multidisciplinary & collaborative programs.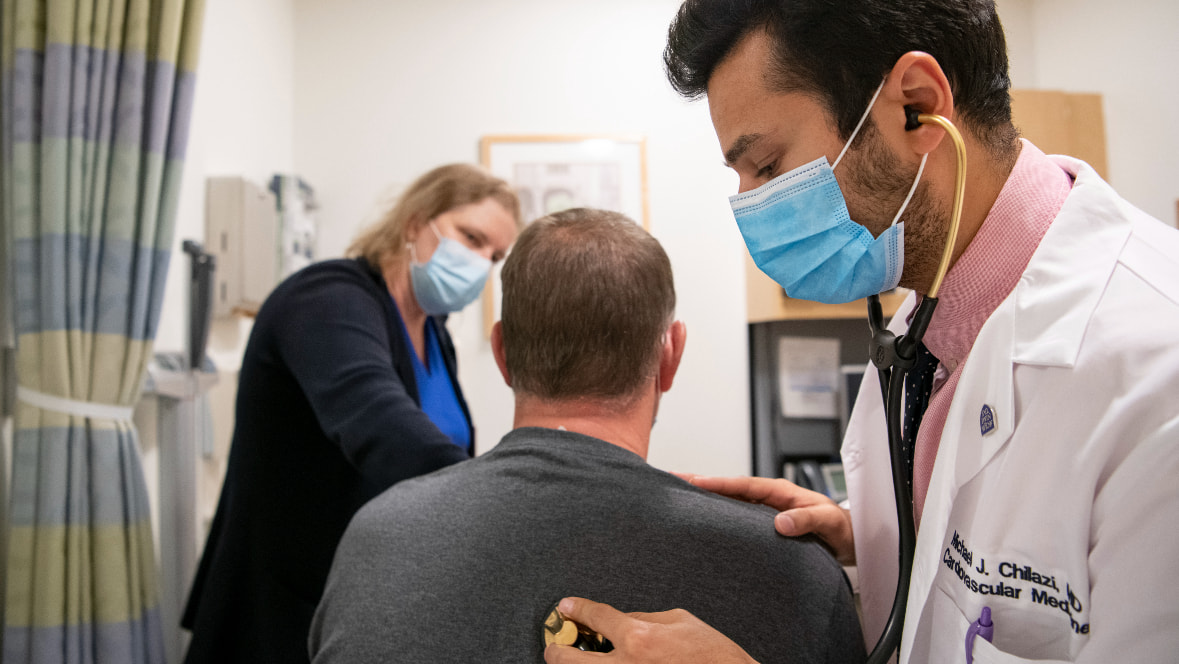 We train leaders by providing individual mentoring for both investigative and clinical careers.
Our trainees will be equipped to shape the future of cardiovascular medicine though their leadership in clinical care, scientific investigation and education. Our diverse faculty provide both breadth and depth in their experience and expertise, with world leaders spanning general cardiology and subspecialty disciplines. Immersion into the vibrant environment of Mass General, Harvard Medical School, and affiliated hospitals and institutions, allows our trainees to flourish with individualized career development.
Our Program's Commitment to Diversity and Inclusion
Diversity is the richness of human differences. Inclusion is when everyone feels connected, valued and engaged. At Massachusetts General Hospital, we believe that because of diversity we excel; through inclusion we respect; focused on equity we serve, heal, educate and innovate.
Our People
Learn more about our program leadership, current fellows, staff and alumni.
Our people >
Our Program
Learn more about our clinical training, investigative training and mentored research.
Subspecialty Training
Many of our general cardiovascular fellows will go on to advanced training in one of our subspecialty programs.
Learn more about our subspecialty fellowships >
Fellows' Projects
Discover research stories from the Fellows' perspective.
Fellows' projects >
Apply
We will be holding virtual interviews for the 2023-2024 recruitment season.. We recognize that in-person interviews may have certain advantages. However, in order to assure equity and fairness as much as possible, we have made the difficult decision to follow ACGME preliminary recommendations as outlined for residency recruitment and take a similar approach to fellowship recruitment.
Things You'll Need

Three letters of reference from mentors, including one from the Internal Medicine Program Director.
A personal statement that discusses your academic interests (research/clinical).
An updated CV
UMSLE exam results
ECFMG certificate, if applicable
Key Program Dates for 2023-2024 Applications
July: Apply through ERAS
August: NRMP registration
Week of August 21, 2023: interview invitations are released
The recruitment season will all be virtual. The tentative virtual interview dates:


Friday, September 15, 2023
Tuesday, September 19, 2023
Friday, September 29, 2023
Monday, October 2, 2023
Tuesday, October 17, 2023

December: Match Day
July 1, 2024: Fellowship begins
Electronic Residency Application Process (ERAS)

Applicants are required to complete a written application through the Electronic Residency Application Service on the AAMC website. Our Fellowship participates in the National Residency Matching Program. Don't forget to register for the MATCH no later than early November!

Apply now >
What To Expect On Your Interview Day
We invite you to join some of our current fellows for an informal virtual "happy hour" the evening before your scheduled interview date. The actual interview day will be conducted using virtual interviews, presentations, and gatherings with our current fellows. You will have the opportunity to meet with the program leadership to get a broad overview of our program, interview with members of the selection committee, and most importantly, spend time getting to know our current fellows and faculty. We encourage applicants to contact the Program Manager in advance of the interview day if there are specific faculty members with whom you would like to meet with during your interview day. We recognize that the interview day often flies by and encourage you to reach out with questions or concerns at any time. We look forward to getting to know you!
Frequently Asked Questions
Can I submit more than 3 letters via ERAS?
Can I send additional documents outside of ERAS or an updated CV?

No, all documents must be sent via ERAS.
Is there a minimum USMLE Score we require?

No, we take into account scores as part of the overall review of an application.
Who should the letters of recommendation be from?

One must be from your current Program Director. The other letters should be from current faculty who can attest to your clinical experience accomplishments. You can also include a letter from a research mentor/PI.
Who reviews my application?

All applications are screened by the Program Director and then distributed to our Selection Committee (approximately 10 members) who carefully review the applications.
If I'm a foreign medical graduate, will that hurt my application?

No; however, we do give preference to applicants who have some prior US clinical training.
What does the travel to conference policy consist of?

The MGH Cardiovascular Fellowship is committed to supporting fellows' attendance at national meetings and will reimburse the costs of travel (up to $1,500 annually) for AHA or ACC travel. Additionally, if a fellow is a lead author or presenting an abstract at additional meetings, the Division will reimburse for additional travel (up to $1,500 for each travel request) at the program director's discretion.
Is moonlighting permitted during fellowship?

Yes. It requires approval from the Program Director and you will need to have a full Massachusetts License and your own state and Federal DEA certificate. The maximum number of hours fellows can moonlight is 50 hours per month and must be counted towards the ACGME 80hr duty hour requirement.
Is parking available?

Yes, MGH parking is available to fellows for a reduced rate.
Will I be able to obtain Level II training in Echo during my cardiovascular disease fellowship training?

Yes, we can coordinate with the Program Director in Echocardiography to identify a schedule (either in your 3rd year or during your elective time) to obtain Level II training.
What is your parental leave policy?

Our program adheres to the GME vacation, sick time, and leave policy, which specifies that graduate trainees who are the parent of a new child by birth, adoption, or placement in foster care are eligible for 8 weeks of paid parental leave. Birthing moms are entitled to 12 weeks paid leave as has been standard for our division.
Contact the Cardiovascular Disease Fellowship Program
Learn more about the fellowship and how to apply. Follow our Fellows on Twitter: @MGHCVFellows