professional-education
professional-education
residency
imaging
d;r
true
Diagnostic Radiology Residency Program
Dedicated to producing the next generation of diverse clinical and academic radiologists, the Radiology Residency provides intensive training in all subspecialties and modalities of imaging.
Contact Information
Mass General Department of Radiology Residency
55 Fruit Street
Boston, MA 02114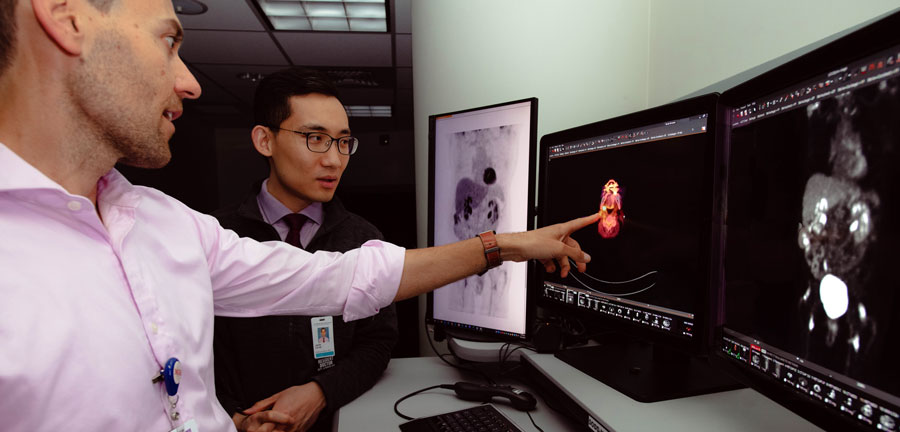 Welcome to Mass General's Radiology Residency Program!
I am so excited that you are interested in learning more about our diagnostic radiology residency program at Mass General. There are many features that I believe make Mass General a truly special place to begin your training. One of my favorite characteristics about the program and department is the exceptional community of residents, faculty, and support staff. While clinically rigorous, the environment is incredibly supportive and inclusive of every single member. The Department of Radiology has long been dedicated to the training of future radiologists as the first in the country to establish a residency training program. Resident education is one of the highest priorities of the staff, many of whom are recognized globally as leaders in their field. In addition to providing exceptional personalized teaching at the workstation and more formalized group didactics, you will find that the staff are dedicated to ensuring your personal success. Yes, the staff and residents are all extremely talented and driven, but teamwork and respect are championed universally. The result is a very passionate, collaborative, and nurturing atmosphere ideal for any budding radiologist.
As a Mass General radiology resident, your clinical education will be second to none. Mass General is uniquely positioned to provide exposure to a wide variety of disease states and a large volume of cases, critical components of radiology training. Mass General serves as a general hospital for the local Boston area and is a Level 1 trauma center. Satellite imaging centers further increase the hospital's coverage of outpatient centers and urgent care clinics. The hospital also draws a high number of referrals for subspecialty care from all over the world, providing exposure to rare and newly described diseases. During your last year of residency, you will be able to spend six or 12 month blocks in a radiology subspecialty of your choice, effectively serving the role of a fellow and gaining critical subspecialty experience and knowledge to augment your skillset.
In addition to rigorous clinical training, residents have opportunities to enrich and tailor their experience with extensive non-clinical activities to accelerate their career development. Examples include opportunities within the realms of research, healthcare management and leadership, education, entrepreneurship, and global health, both at Mass General Hospital and the larger Mass General Brigham and Harvard University communities. These opportunities are unsurpassed at most other institutions and add to the richness and uniqueness of the Mass General training program.
The residents truly make our department outstanding. We believe that you will receive the highest quality of education possible at Mass General, and that the program will provide you with all the resources and support you need to achieve any future career you can dream.

Sincerely,
Mass General Radiology Residency Information Video:
Interventional Radiology Residency
Mass General offers an interventional radiology residency program. Learn more about this training.