treatment
treatment
alzheimers-disease
neurology
adult
m
true
Memory Disorders Division
The Memory Division provides comprehensive diagnostic and treatment services for Alzheimer's disease and other types of dementia such as frontotemporal degeneration or Lewy Body dementia at specialized outpatient clinics.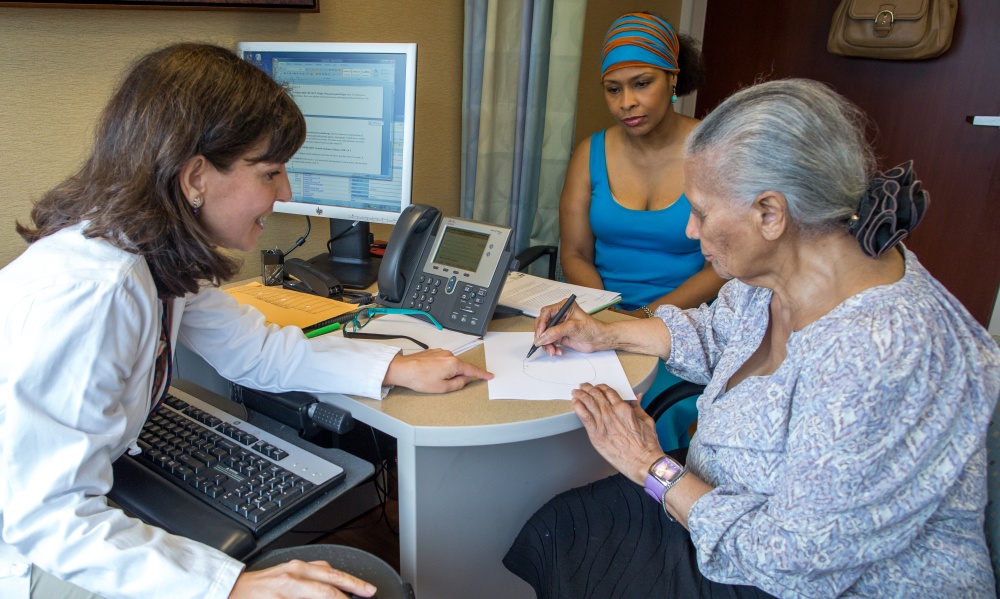 Contact Information
Memory Disorders Division
Wang Ambulatory Care Center
15 Parkman Street
8th Floor, Suite 835
Boston, MA 02114

Phone: 617-726-1728
Fax: 617-726-4101
Memory Disorders Coordinator Phone: 617-726-1728
Mailing Address
Department of Neurology
Memory Disorders Unit
Mail code: WACC 715
Massachusetts General Hospital
55 Fruit Street
Boston, MA 02114
Explore This Treatment Program
Overview
The Memory Disorders Unit and the Frontotemporal Disorders Unit at Massachusetts General Hospital are tertiary care outpatient clinics located on the eighth floor of the Wang Ambulatory Care Center (WACC) of the hospital. We have several specialized services: the Memory Disorders Unit (MDU), the Frontotemporal Disorders Unit (FTD), the Normal Pressure Hydrocephalus clinic, and the Lewy body Dementia clinic. Each unit's clinical staff consists of board-certified neurologists, geriatric psychiatrists, nurses and social work resource specialists who are fluent in a variety of languages, including French, Hebrew, Italian and Spanish. Complimentary translation and interpretation services in a variety of languages – including sign language – are provided by trained and certified personnel of the Mass General Medical Interpreter Services at all times.
Patients of the Units are treated with compassionate, courteous and professional care throughout their diagnostic, consultation and follow-up treatment visits. We require that all patients attend their appointments with a close family member or an individual who can provide reliable information about them. The services that we provide include:
Comprehensive medical and neurologic assessment, diagnosis and follow-up on pharmacological interventions for dementia symptoms
Psychiatric evaluation, monitoring and referral to specialists on an "as-needed" basis
Referral to the Mass General Psychology Assessment Center for neuropsychological examinations and follow-up evaluations
Referral to the Mass General Genetics Program for genetic counseling for rare cases of inherited memory disorders
Support groups and social service consultations for family members and caregivers
Participation in cutting-edge clinical trials and observational studies conducted by the Massachusetts Alzheimer's Disease Research Center
Coordination with the Mass General International Patient Center for patients from other countries who seek medical care at Mass General
What to Expect at Your Appointment
Dr. Caplan has been my husband's provider for 18 months and he has been great in difficult circumstances. The anxiety that comes with such a life changing illness as Alzheimer's is difficult. Dr. Caplan has been kind, helpful and compassionate. We all feel comforted by his care.
– patient in the Memory Disorders Division
Update on Lecanemab and Donanemab
Mass General Brigham (MGB) is aware of interest in lecanemab (Leqembi™), which received accelerated approval by the FDA on January 6, 2023 for the treatment of Alzheimer disease in patients with mild cognitive impairment or mild dementia. Accelerated approval was based on reduction in amyloid beta plaques observed in patients treated with lecanemab.

The FDA is required to decide by July 6, 2023 on full approval of lecanemab based on clinical benefit. The results of a Phase 3 randomized, controlled clinical trial to confirm lecanemab's clinical benefit have recently been reported.

The Centers for Medicare & Medicaid Services plan to review lecanemab to determine whether Medicare will cover the cost of this medication.

A second medication in the same class, donanemab, has more recently also been reported to slow progression of disease. Donanemab data have not yet been presented in full to the public or the FDA.

All drugs used within the MGB system are subject to review by the MGB Pharmacy & Therapeutics Committee that is charged with evaluating and providing recommendations for the use of medications. The evaluation includes a review of clinical, economic, and operational considerations. This process, with the goal of ensuring safe and cost-effective use of medications within MGB, is expected to take up to several months for FDA-approved medications. Additional information will be provided when it becomes available.

The MGB team will provide updates about lecanemab and donanemab on this website as soon as we learn more details about the status of full FDA approval and Medicare's decisions about reimbursement.

Research
Our clinician-scientists are at the forefront of cutting-edge research in the neurodegenerative diseases, and partner with our patients and research participants in order to discover effective treatments for Alzheimer's disease and related forms of dementia. Please visit MADRC.org to learn more about our current research opportunities, or call 617-643-5200 to find out how to join us in the fight against these brain diseases.
Study of Memory and Aging
Estamos buscando adultos mayores de 65 años para participar en nuestro estudio para entender cómo se desarrolla la pérdida de memoria en el cerebro humano. Aprende más.
We're recruiting Spanish-speaking adults over 65 to participate in our study to understand how memory loss develops in the human brain. Learn more.
Research on Memory and Aging in Black Adults
To make sure your voice is heard and that research findings are inclusive, we encourage African American/Black adults over age 50, with or without memory concerns, to join our ongoing study of memory and aging. Learn more.
MADRC Resources
The MADRC leads cutting-edge research and provides resources to professionals, people with dementia and their families. Disponible en Español.
---
Patient Resources
You may also find the following resources from other groups helpful.
---
Our Doctors
Get to know some of the physicians on our team.
Director, Frontotemporal Disorders Unit
Staff Behavioral Neurologist

Director, Lewy Body Dementia Unit

Associate Professor of Neurology, Harvard Medical School
Associate Director, Mass General Brigham Telestroke Program
Support our work
Join us on our quest to find a cure for Alzheimer's disease and related dementias, while providing comprehensive care of patients and families living with these devastating disorders.