research
research
research-lab
vincent-center-for-reproductive-biology;obstetrics-gynecology;research-institute
m
true
Vincent Center for Reproductive Biology
Mitchell Lab: Caroline Mitchell, MD, MPH
The goal of the Mitchell Lab is to understand how vaginal microbes influence reproductive health and disease, and to design novel therapies to improve women's health.
Contact Information
Vincent Center for Reproductive Biology
Thier Building, Floor 9
55 Fruit Street
Boston, MA 02114

Phone: 617-724-6047

Overview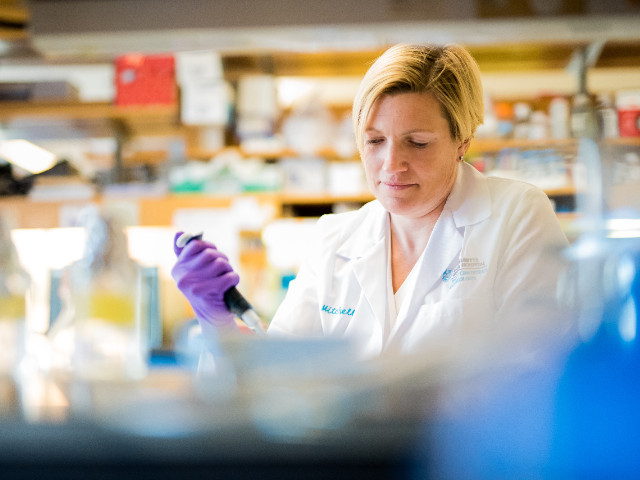 The primary goal of research in the Mitchell Lab is to increase our understanding of the role of the vaginal microbiome in reproductive health in order to drive novel interventions to improve women's health. Our work includes clinical studies, translational analyses and experiments at the bench to identify key pathways in host-microbe interactions, and ways to intervene to promote vaginal health. Humans are the only species with a Lactobacillus-dominant vaginal microbiota, thus all of our work involves human samples or human cell lines.
Our Current Projects
MOTIF (Modifying Organisms Transvaginally in Females)
This is an NIH-funded, randomized trial of vaginal microbiome transplant (VMT) to prevent recurrent bacterial vaginosis. In this study, people with a history of recurrent BV are given antibiotic treatment and then randomized to either transplant of Lactobacillus rich vaginal fluid (which is pre-tested to ensure no infections) or sterile water placebo. This study will help us identify what features of healthy vaginal fluid can transfer protection from BV and will allow development of new preventive therapies. This study is part of a close collaboration between the Mitchell Lab and the Kwon Lab at the Ragon Institute of MGH, MIT and Harvard.
Interested in being a healthy donor? LEARN MORE
Interested in being part of the VMT trial? LEARN MORE
KINETICS
This is a study funded by the Bill and Melinda Gates Foundation to evaluate how antibiotic treatment of BV changes the vaginal bacterial community and if/when vaginal Lactobacillus return after treatment. This will provide insight into the best timing for prevention interventions, and when people are most vulnerable to re-infection after antibiotic treatment.

Interested in being a study participant? LEARN MORE
VMRC
The Vaginal Microbiome Research Consortium (VMRC), is funded by the Bill and Melinda Gates Foundation to develop a novel live biotherapeutic for prevention of bacterial vaginosis. Dr. Mitchell is the sponsor for the Phase 1 clinical trial of this novel product, which is being developed by scientists from around the U.S. and South Africa, and will be tested both here in Boston and in South Africa.
RituxiVag
This is an NIH-funded study of women receiving rituximab (a medication that decreases B-cells in the bloodstream) for treatment of autoimmune disorders. The study arose from clinical observations in patients shared between Dr. Mitchell and Dr. John Niles of the Vasculitis and Glomerulonephritis Center. Our goal is to identify the impact of B-cells on the vaginal microbiome and vaginal immunity. This will help us better understand vaginal immunity overall.
V2
Patients seen in the MGH Gynecology clinic, and in Dr. Mitchell's vulvovaginitis clinic have the opportunity to contribute to an observational cohort study collecting vaginal samples from a wide range of women to improve our understanding of the basic biology of the human vaginal mucosa and microbiota. Samples from this study have already helped us examine links between symptoms, microbiome and inflammatory markers.
Origin
In collaboration with Dr. Moran Yassour of the Hebrew University in Jerusalem, we enrolled a cohort of pregnant people and collected maternal and infant samples to better understand the link between C-section delivery and changes in the infant gut microbiome. Our initial findings challenged existing frameworks by showing that the microbiome changes were also seen in babies born by C-section after labor, suggesting that exposure to maternal vaginal microbiota was not sufficient to prevent the changes due to surgical delivery.
---
Who We Are
Meet Our Team

Caroline Mitchell, MD, MPH
Director, Vulvovaginal Disorders Program, OB/GYN, Mass General
Associate Professor, Obstetrics, Gynecology & Reproductive Biology

Dr. Mitchell is a faculty member in the Vincent Center for Reproductive Biology at Massachusetts General Hospital in Boston and is the director of the Vulvovaginal Disorders Program at the Mass General main campus. Dr. Mitchell received her undergraduate degree from Harvard college, spent two years in the Peace Corps in Southern Africa, then returned to medical school at Harvard. She did her OB/Gyn residency training at the University of Washington in Seattle, where she also received her MPH degree. She spent seven years on faculty at the UW before returning to Boston and Mass General in 2014. Dr. Mitchell spends the majority of her time in the lab doing translational and basic science research, funded by NIH and foundation grants. Her work focuses on the relationship between the vaginal microbiota, mucosal immune responses and reproductive health.

Ofri Bar, MD

Ofri is a joint PhD student in Caroline Mitchell's lab and Moran Yassour's lab (The Hebrew University of Jerusalem in Israel). Ofri is interested in studying the mother-to-child transmission of bacteria and how it affects the establishment of the infant gut microbiome in early life.

Prior to beginning PhD research, Ofri completed an MD degree at The Hebrew University. Ofri's long-term goal is to continue medical practice and training with clinical research, and bring them together.

In Ofri's free time, she enjoys running, yoga, hiking in nature with her family and messy baking with her son.

Agnes Bergerat-Thompson, PhD
Sr. Research Technologist

Agnes joined the Mitchell Lab in August 2016 to investigate the female reproductive tract microbiome. Her work focuses on developing in vitro models to study the host flora-interaction. She is also studying the mucosal immune system of patients with dysbiotic flora using flow cytometry.

Briah Cooley
Clinical Research Coordinator I

Briah is a Clinical Research Coordinator in the Mitchell Lab and recently graduated from Macalester College in May 2021 with a BA in Biology. She plans to attend medical school and study obstetrics and gynecology. She is extremely interested in prevention of mother-to-child transmission of HIV (PMTCT) and the development of an HIV vaccine. Briah is interested in studying the vaginal microbiome because it is still an understudied area, and is interested in possible vaginal microbiome differences linked to race and ethnicity.

Vi Duong, MD
Clinical Research Fellow

Originally from Northern Virginia, Vi completed her medical and residency training at Georgetown University Medical Center in Washington, D.C. She was initially drawn to women's health while volunteering as an undergraduate student in a program aimed at increasing access to high-quality prenatal education for WIC-eligible women. She is currently pursuing a three-year fellowship in Female Pelvic Medicine and Reconstructive Surgery. Her clinical interests include pelvic floor disorders, overactive bladder, and surgical outcomes. Her current research thesis investigates the impact of the vaginal microbiome on primary fibroblast cell healing and proliferation

Wafae El-Arar
Research technician

Wafae El-arar is originally from Morocco and has lived in the Boston area for 19 years. She is a Research Technician in the Mitchell Lab and recently graduated from Stonehill College in May 2021 with a BS in Biology. Wafae is interested in women's health especially because it is an area that is overlooked in healthcare. She hopes that her contributions would make an impact for women around the world.
News Coverage and Publications
News
First Vaginal Bacteria Transplants in the US to Begin at Massachusetts General Hospital - WGBH
Selected Publications

---

---

---

---

---

---

---

---

---

---

---

---

---

---

---

---

---

---

---

---

---

---
OB/GYN Research
The state-of-the-art research conducted in the OB/GYN Department is focused on improving obstetric and gynecologic care for women across the lifespan.
OB/GYN Advances in Motion
Information for health care professionals about the latest OB/GYN breakthroughs, research and clinical advances from Mass General.
#1 Research Hospital in America
Mass General is recognized as a top hospital on the U.S. News Best Hospitals Honor Roll for 2023-2024.