research
research
research-lab
vincent-center-for-reproductive-biology;obstetrics-gynecology;research-institute
m
true
Vincent Center for Reproductive Biology
Mitchell Lab: Caroline Mitchell, MD, MPH
The goal of the Mitchell Lab is to understand how vaginal microbes influence reproductive health and disease.
Contact Information
Vincent Center for Reproductive Biology
Thier Building, Floor 9
55 Fruit Street
Boston, MA 02114

Phone: 617-724-6047

Overview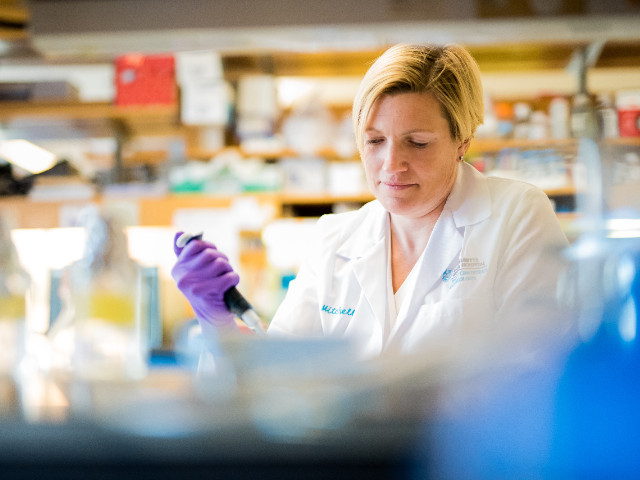 The human vaginal bacterial community has important links to reproductive health. The vaginal bacteria most associated with health are Lactobacillus species, which make lactic acid and keep the vaginal pH low. When vaginal Lactobacillus are absent, the many different types of bacteria that are present often lead to a condition known as bacterial vaginosis (BV).
BV is a syndrome, which means it doesn't have a clear single cause. One focus of the lab is identifying key features of bacteria which may be protective against BV and those which may be linked to the adverse consequences of BV. We perform experiments in the lab to identify the genes and pathways involved in host-microbe interactions. We also enroll participants in cohort studies to collect samples that help us define the impact of different bacteria on people's symptoms, immunity and health.
Current treatment for BV is antibiotics—either vaginal or oral—and the success of this treatment is limited. Up to 50% of women will have a recurrence of BV after antibiotic treatment. There hasn't been a fundamentally new treatment or prevention strategy in decades.

A second focus of the lab is developing new treatments for BV and interventions to promote a health vaginal microbiome.
Our Current Projects
MOTIF (Modifying Organisms Transvaginally in Females)
This is a randomized trial of vaginal microbiome transplant (VMT) to prevent recurrent bacterial vaginosis. In this study, people with a history of recurrent BV are given antibiotic treatment and then randomized to either transplant of Lactobacillus rich vaginal fluid (which is pre-tested to ensure no infections) or sterile water placebo. This study will help us identify what features of healthy vaginal fluid can transfer protection from BV and will allow development of new preventive therapies.
Interested in being a healthy donor? LEARN MORE
Interested in being part of the VMT trial? LEARN MORE


KINETICS
This is a study to evaluate how antibiotic treatment of BV changes the vaginal bacterial community and if/when vaginal Lactobacillus return after treatment. This will provide insight into what the best timing for prevention interventions will be, and when people are most vulnerable to re-infection after antibiotic treatment.
VMRC
As part of the Vaginal Microbiome Research Consortium (VMRC), which is funded by the Bill and Melinda Gates Foundation, we are designing a clinical trial to test a novel vaginal live biotherapeutic product to prevent recurrent bacterial vaginosis. The novel treatment is being developed by scientists from around the U.S. and South Africa, and will be tested both here in Boston and in South Africa.
RituxiVag
This is a study of women receiving rituximab, a medication that decreases B-cells in the bloodstream, for treatment of autoimmune disorders. Our goal is to identify the impact of B-cells on the vaginal microbiome and vaginal immunity. This will help us better understand vaginal immunity overall.
---
Lab Members
Learn more about the researchers in our lab.
Caroline Mitchell, MD, MPH
Director, Vulvovaginal Disorders Program, OB/GYN, Mass General
Associate Professor, Obstetrics, Gynecology & Reproductive Biology
Dr. Mitchell is a faculty member in the Vincent Center for Reproductive Biology at Massachusetts General Hospital in Boston and is the director of the Vulvovaginal Disorders Program at the Mass General main campus. Dr. Mitchell received her undergraduate degree from Harvard college, spent two years in the Peace Corps in Southern Africa, then returned to medical school at Harvard. She did her OB/Gyn residency training at the University of Washington in Seattle, where she also received her MPH degree. She spent seven years on faculty at the UW before returning to Boston and Mass General in 2014. Dr. Mitchell spends the majority of her time in the lab doing translational and basic science research, funded by NIH and foundation grants. Her work focuses on the relationship between the vaginal microbiota, mucosal immune responses and reproductive health.
---
Ofri Bar
Ofri is a joint PhD student in Caroline Mitchell's lab and Moran Yassour's lab (The Hebrew University of Jerusalem in Israel). Ofri is interested in studying the mother-to-child transmission of bacteria and how it affects the establishment of the infant gut microbiome in early life.
Prior to beginning PhD research, Ofri completed an MD degree at The Hebrew University. Ofri's long-term goal is to continue medical practice and training with clinical research, and bring them together.
In Ofri's free time, she enjoys running, yoga, hiking in nature with her family and messy baking with her son.
Agnes Bergerat-Thompson, PhD
Sr. Research Technologist
Agnes joined the Mitchell Lab in August 2016 to investigate the female reproductive tract microbiome. Her work focuses on developing in vitro models to study the host flora-interaction. She is also studying the mucosal immune system of patients with dysbiotic flora using flow cytometry.
Briah Cooley
Clinical Research Coordinator I
Briah is a Clinical Research Coordinator in the Mitchell Lab and recently graduated from Macalester College in May 2021 with a BA in Biology. She plans to attend medical school and study obstetrics and gynecology. She is extremely interested in prevention of mother-to-child transmission of HIV (PMTCT) and the development of an HIV vaccine. Briah is interested in studying the vaginal microbiome because it is still an understudied area, and is interested in possible vaginal microbiome differences linked to race and ethnicity.
Julia Oppenheim
Originally from Chicago, IL, Julia is a rising junior at Tufts University. She is a Psychology major combined with a double minor in Entrepreneurship and Nutrition. She is passionate about learning how different macronutrients and micronutrients affect how our bodies function. She first became interested in women's health when, at 17, she lost her menstrual cycle for a year. No one could figure out what the root cause was for this change to her body. Her instinct is that her nutrition, or lack thereof, may have played a significant role as to why she lost her menstruation. She believes that proper nutrition starts from having a healthy environment in the womb, which is why vaginal microbiome research is so crucial and something she is proud to be a part of.
Joe Shi, MD
Clinical Research Fellow
Joe grew up around Boston and completed his undergraduate education and medical training in St Louis, MO. He was drawn to women's health due to the patient centered nature of this field as well as the need for better women's health care in many areas of the country and around the world. Joe's clinical interests involve pelvic floor dysfunction, surgical outcomes, and medical and surgical education. His current research thesis investigates the impact of the vaginal microbiome on epithelial cell healing.
Ashley Tartarilla, MPH
Clinical Research Project Manager
Ashley Tartarilla is a Clinical Research Project Manager in the Mitchell Lab. She has a Master of Arts in Psychology from Boston University and recently completed her Master of Public Health at the University of Massachusetts Amherst, focusing her studies on health equity and public health ethics. Ashley's interest in sexual health began while minoring in gender studies as an undergraduate, and continued during her graduate studies, which included researching the relationship between coping styles and health outcomes among women living with HIV. Ashley is excited to be part of a team dedicated to improving vaginal health for people with chronic bacterial vaginosis. In her free time, Ashley enjoys backpacking in the White Mountains, baking cakes, and spending time with her family in Maine.
In the News
First Vaginal Bacteria Transplants in the US to Begin at Massachusetts General Hospital - WGBH
Publications
Selected Publications

---

---

---

---

---

---

---

---

---

---

---

---

---

---

---

---

---

---

---

---

---

---