professional-education
professional-education
fellowship
orthopaedics
s
true
Sports Medicine Fellowship
The Sports Medicine Fellowship at Massachusetts General Hospital provides invaluable professional experience, with broad exposure to the exciting field of orthopedic sports medicine.
Contact Information
Sports Medicine Fellowship
Scott D. Martin, MD
Fellowship Director
175 Cambridge Street, Suite 400
Boston, MA 02114

Phone: 617-643-4796
Fax: 617-643-7908
Email: sdmartin@mgh.harvard.edu

Explore the Sports Medicine Fellowship
Overview
The Sports Medicine Fellowship at Massachusetts General Hospital provides an invaluable experience and a deep and broad exposure to the field of orthopaedic sports medicine and related conditions. Three fellows are selected for the Harvard/MGH Sports Medicine Fellowship Program each year. Each fellow gains experience in the management of athletic knee injuries including arthroscopy, arthroscopic surgery, internal derangement, and instabilities. Fellows will also become proficient in the management of shoulder problems including repair of recurrent shoulder dislocations, torn rotator cuff, and arthroscopic surgery. Fellows develop surgical and patient management skills by working closely with Drs. Scott Martin (Fellowship Director), Peter Asnis, Eric Berkson, Gian Corrado, Gus Mazzocca, Evan O'Donnell, Mark Price, Lars Richardson, Miho Tanaka, George Theodore and Jon J.P. Warner.
The teaching program is combined with MGH Shoulder and Arthroscopy Service and includes a rotation in Foot and Ankle Surgery. The fellowship is accredited by ACGME (Accreditation Council for Graduate Medical Education) and approved by AANA (Arthroscopy Association of North America).
Requirements
Orthopaedic surgeons who have completed an accredited residency program are eligible for the MGH Sports Medicine Fellowship, and three fellows are chosen each year. The purpose of the Fellowship is to train orthopaedic surgeons in the specialized skills of sports medicine, including clinical, surgical, and research skills. Each fellow is required to complete at least one research project during his/her fellowship.
Curriculum
Attend MGH Orthopaedic Department teaching conferences including Grand Rounds and the CORE lecture series.
Participate in weekly Sports Medicine conferences.
Teach residents in the Harvard Combined Orthopaedic Surgery Residency and medical students.
Attend and help teach at cadaveric dissection labs for the residents.
Clinical Experience
Evaluate and help manage patients who have athletic injuries, especially to the knee and shoulder.
Assist in surgery.
Sports Team Coverage
Preseason evaluations and training camp coverage
Game coverage for home and away games
Aid with evaluation and treatment of players
Weekly injury clinic
Preseason evaluations and training coverage
Game coverage
Preseason exams
Game coverage
Spring training
Game coverage
Coverage of intercollegiate, intramural, and recreational athletes
Attend clinics at Harvard University Dillon Field House
Weekly clinic for injury evaluation
Coverage of athletic contests
Weekly clinic for injury evaluation
Coverage of athletic contests
Buckingham Browne & Nichols High School Athletics
Weekly football coverage
Excellent opportunity for role as team physician
Research Experience
Fellows are required to complete a research project in an area of interest that is agreed upon by the medical staff. These areas may include basic science research or clinical research.
---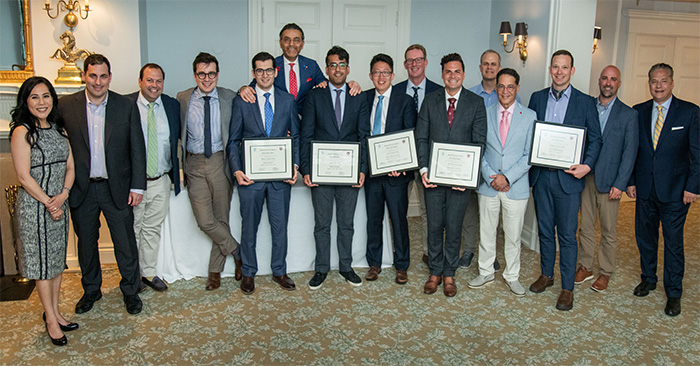 ---
How to Apply
Applications are accepted via the American Orthopaedic Society for Sports Medicine (AOSSM) Fellowship Match. No other application materials are necessary beyond those required by the Match.
Visit the AOSSM website to view more information about the Match.
Meet our team
See the clinicians who are part of our Sports Medicine Service.
Sports Medicine Service
Our Sports Medicine team provides treatment and rehabilitation for sports-related injuries for recreational, amateur and professional sports.