research
research
research-lab
orthopaedics
b
true
Bioengineering Laboratory
The Bioengineering Laboratory continues its tradition of innovation and translational research in the area of joint arthroplasty engineering and in vivo biomechanics.
Contact Information
Orthopaedic Bioengineering Laboratory
Jackson 12, GRJ-1215
55 Fruit Street
Boston, MA 02114

Phone: 617-726-1346
Fax: 617-724-4392
The Orthopaedic Bioengineering Laboratory was established in 1998. Upon establishing the laboratory at Massachusetts General Hospital, the focus was on the novel application of robotic technology to the in-vitro motion simulation of the human joints. Using this robotic technology, the laboratory pioneered the investigation of human knee function in high flexion angles and revealed many factors that hinder deep flexion after total knee arthroplasty.
In 2003, the Orthopaedic Bioengineering Laboratory established a dual fluoroscopic image system (known currently as DFIS in the literature) that could accurately determine in-vivo six degrees of freedom (6DOF) musculoskeletal joint kinematics. This technique has since contributed to a series of pioneering research papers reporting the in-vivo function of patients with joint replacement implants during functional activities. Many of these works were the first data ever observed in patients with joint replacement implants. The laboratory continues to focus on orthopaedic translational research including developing the next generation of total hip and knee arthroplasty in order to optimize patient outcome.
---
Our Team
Director:
Research Team:
Kaya Adelzadeh
Ameen Barghi
Hayden Box
Jillian Burns
Wenhao Chen
Saimrunali Dadigala
Travis Dang
John Drago
David Fitz
Christian Klemt
Stephen Maier
Brett Mulawka
Ruben Oganesyan
Karim Sabeh
Venkatsaiakhil Tirumala
Janna VandenKieboom
Adriana Velmahos
Liang Xiong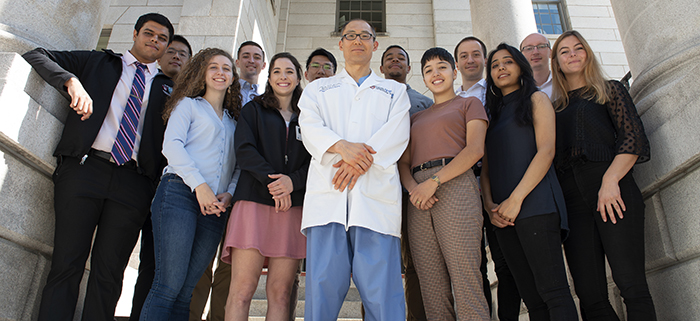 ---
Research Positions
Post-Doctoral Position at Orthopaedic Bioengineering Lab, Massachusetts General Hospital/Harvard Medical School
The Orthopaedic Bioengineering Lab at Massachusetts General Hospital/Harvard Medical School is looking to recruit an additional Postdoctoral Research Fellow to join our research team. Responsibilities will include quantitative investigation of the in vivo hip and knee biomechanics of patients with total joint replacements. The candidate will process CT and MRI images of patients to construct novel 3D anatomic models of the hip and knee and examine the optimal surgical implantation of joint replacements. This role offers the opportunity to be involved in multiple novel projects enabling the development of a wide range of research experience. Under the supervision of Professor Young-Min Kwon, the candidate will work with a multidisciplinary team of engineers, surgeons, and patients and will develop a strong network with Harvard faculty. The candidate will have the opportunity to present our work nationally and internationally.
Qualified candidates should have a PhD in biomedical, bioengineering, mechanical, or a related engineering discipline and should have graduate research experience with musculoskeletal joint biomechanics. The candidate should have experience in conducting human joint kinematics and kinetics evaluation using imaging and motion analysis techniques. Strong written and oral communication skills are necessary. Proficiency in MATLAB programming is highly desirable.
Interested applicants should submit a CV/resume and contact information for three references (full name, email, and phone). Please submit your application as an email attachment to Jillian Burns at jcburns@mgh.harvard.edu.
---
Selected Publications
See PubMed for Complete List
Tsai TY, Dimitriou D, Li JS, Li G, Kwon YM. Asymmetric Hip Kinematics during Gait in Unilateral Total Hip Arthroplasty Patient: in vivo 3-dimensional motion analysis. J Biomech 2015;48(4):555-559.
Dimitriou D, Tsai TY, Li JS, Nam KW, Park KK, Kwon YM. In vivo kinematic evaluation of Total Hip Arthroplasty during stair climbing. J Orthop Res 2015;33(7):1087-93.
Tsai TY, Dimitriou D, Li JS, Li G, Kwon YM. Does component alignment affect gait symmetry in unilateral Total Hip Arthroplasty patients? Clin Biomech 2015;30(8):802-7.
Li C, Hosseini A, Tsai TY, Kwon YM, Li G. Articular Contact Kinematics of the Knee Before and After a Cruciate Retaining Total Knee Arthroplasty. J Orthop Res 2015;33(3):349-358.
Park KW, Hosseini A, Tsai TY, Kwon YM, Li G. Elongation of the collateral ligaments after cruciate retaining total knee arthroplasty. J Biomech 2015;48(3):418-424.
Park KK, Tsai TY, Dimitriou D, Kwon YM. Utility of preoperative femoral neck geometry in predicting femoral stem anteversion. J Arthroplasty 2015;30(6):1079-84.
Tsai TY, Dimitriou D, Li JS, Kwon YM. Does haptic-robot assisted total hip arthroplasty better restore native acetabular and femoral anatomy? Int J Med Robot 2016. Jun;12(2):288-95.
Park KK, Tsai TY, Dimitriou D, Kwon YM. Three-dimensional in vivo difference between native acetabular version and acetabular component version influences iliopsoas impingement after total hip replacement. Int Orthop. 2016 Sep;40(9):1807-12.
Dimitriou D, Tsai TY, Nam KW, Park KK, Kwon YM, Li G. Side to Side Asymmetry of the Proximal Femoral Anatomy: 3D CT Analysis of 122 Hips.Orthopaedics & Traumatology: Surgery & Research 2016 Feb;102(1):91-7.
Nam KW, Dimitriou D, Tsai TY, Li G, Kwon YM. Ipsilateral Varus Knee Alignment Correlates with Increased Femoral Stem Anteversion in Primary Total Hip Arthroplasty. Hip International 2016 Mar-Apr;26(2):175-9.
Tsai TY, Dimitriou D, Liow MH, Rubash HE, Li G, Kwon YM. 3D Imaging Analysis of Unicompartmental Knee Arthroplasty Evaluated in Standing Position: Component Alignment and In-Vivo Articular Contact. J Arthroplasty 2016 May;31(5):1096-101.