program
program
pathology
false
Dermatopathology
Dermatopathology at Massachusetts General Hospital provides diagnostic services for our patients and consultation services for pathologists in the United States.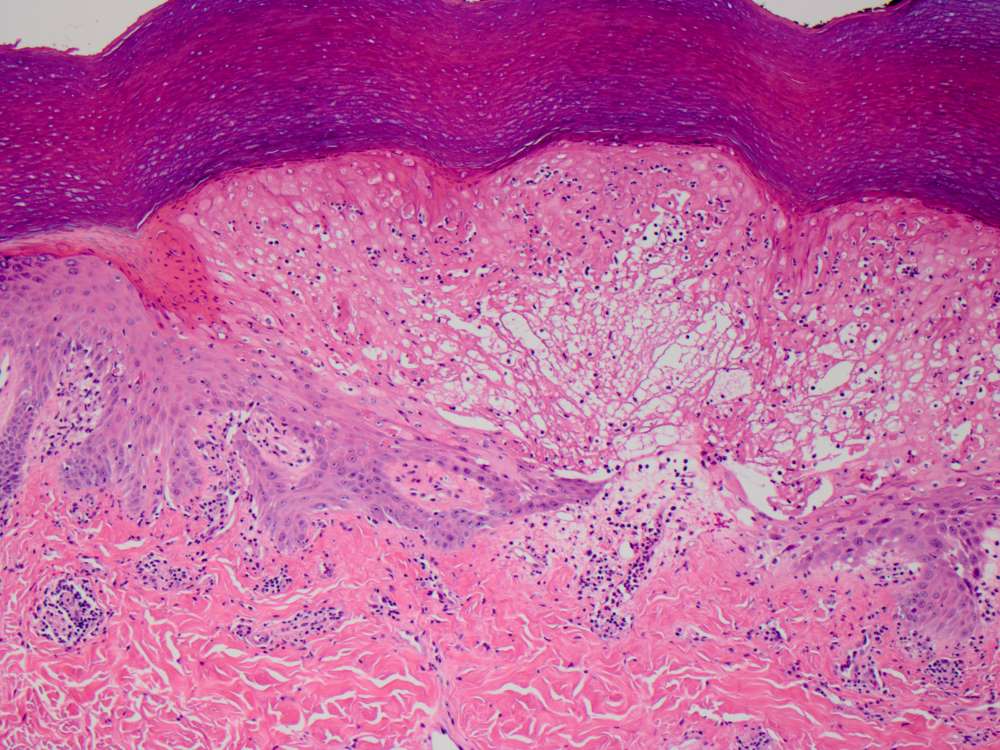 Contact Information
Mai P. Hoang, MD - Director, Mass General Dermatopathology Services
WRN-828
55 Fruit Street
Boston, MA 02114

Phone: 617-726-8890

Email: mhoang@mgh.harvard.edu

Dermatopathology
The Dermatopathology group, led by Dr. Lyn Duncan since 2007 and by Dr. Mai Hoang since January 2020 provides diagnostic services for our patients and consultation services for pathologists in the United States. The group works closely with dermatologists, surgeons and oncologists. The group's missions are to provide the best patient's care, to train future leaders in the field of dermatopathology in U.S. as well as globally, and to contribute to the field of dermatopathology via scholarly works.
Faculty
Mai P. Hoang, MD
Director, Mass General Dermatopathology Unit
Kristine M. Cornejo, MD
Lyn M. Duncan, MD
Ruth K. Foreman, MD
Rosalynn M. Nazarian, MD
Anna Stagner, MD
Clinical Program
The Dermatopathology Service is responsible for diagnosing skin biopsies from a variety of sources, including Mass General inpatients, patients seen in outpatient clinics at the Mass General and in the Boston metropolitan area, and patients who have had initial diagnoses that we are asked to review in consultation. These specimens include routine histology, immunofluorescence, immunohistochemistry and in situ hybridization studies.
Academic and Research Accomplishments
All members of Mass General Dermatopatology team are highly involved in teaching and investigative endeavors. The Dermatopathology faculty has authored numerous publications in clinicopathological studies of cutaneous tumors (lymphoma, Spitz nevi, protocol for sentinel lymph node biopsies in melanoma, nevoid melanoma, mucosal melanoma, desmoplastic melanoma, adnexal carcinomas, squamous cell carcinoma, Merkel cell carcinoma) and inflammatory dermatoses (calciphylaxis, vasculitis and vasculopathy and inflammatory and fibrosing diseases). Members of the Mass General Dermatopathology team have written and edited many books, monographs, and chapters on cutaneous disorders and neoplasms. Information regarding specific research interests and links to Pubmed can be found on individual faculty profiles (See physician profiles section below).


Teaching and Education Activities
Education of Dermatopathology Fellows

The Harvard-Mass General Brigham (MGB) Dermatopathology Fellowship is an ACGME-accredited training program that draws on the facilities of the Brigham and Women's Hospital (BWH) and Massachusetts General Hospital (MGH), with didactic input from faculty at Boston Children's Hospital and the Dana Farber Cancer Institute. Dr. George Murphy at Brigham and Women's Hospital is the current Program Director of the Harvard Combined Dermatopathology Training Program. Dr. Lyn Duncan was the Program Director from 1993-2003.

Post-graduate courses

The annual Harvard Dermatopathology Update 3-day CME course, started in 1995 by Dr. Lyn Duncan and directed by Dr. Mai Hoang from 2008-2017 and by Dr. Ruth Foreman since 2018, has attracted participants worldwide. The Dermatopathology faculty participate in several local, national, and international continuing medical education courses including courses sponsored by the United States and Canadian Academy of Pathology, American Society of Dermatopathology, American Academy of Dermatology, and International Society of Dermatopathology.

All members of the Dermatopathology Unit actively teach Residents in Pathology and Dermatology and Dermatopathology Fellows during daily dermatopathology signout. There are three dermatopathology services, with full signout activities each day.

In addition to this teaching there are numerous teaching conferences specific to Dermatopathology including:
Dermatology Clinicopathologic Correlation Conference
Dermatopathology Consensus Conference
Dermatopathology Unknown Slides for Pathology and Dermatology Residents
Harvard Dermatopathology Lecture series
Inpatient Clinicopathologic Correlation Conference
Cutaneous Lymphoma Conference
Mass General Dermatology Grand Rounds
Mass General Pathology Grand Rounds
Melanoma and Non-Melanoma Skin Tumor Multidisciplinary Conferences
Did you know?
The Dermatopathology Unit at the Massachusetts General Hospital, led by Dr. Mai Hoang, is a world leader in diagnostic dermatopathology!
#1 Research Hospital in America
Mass General is recognized as a top hospital on the U.S. News Best Hospitals Honor Roll for 2023-2024.