treatment
treatment
neuroscience;psychiatry
adult
a
true
Adult Outpatient Psychiatry Services
The Adult Outpatient Psychiatry Service at Massachusetts General Hospital provides a variety of clinical services, including both psychological and medical treatments for a wide range of psychiatric disorders.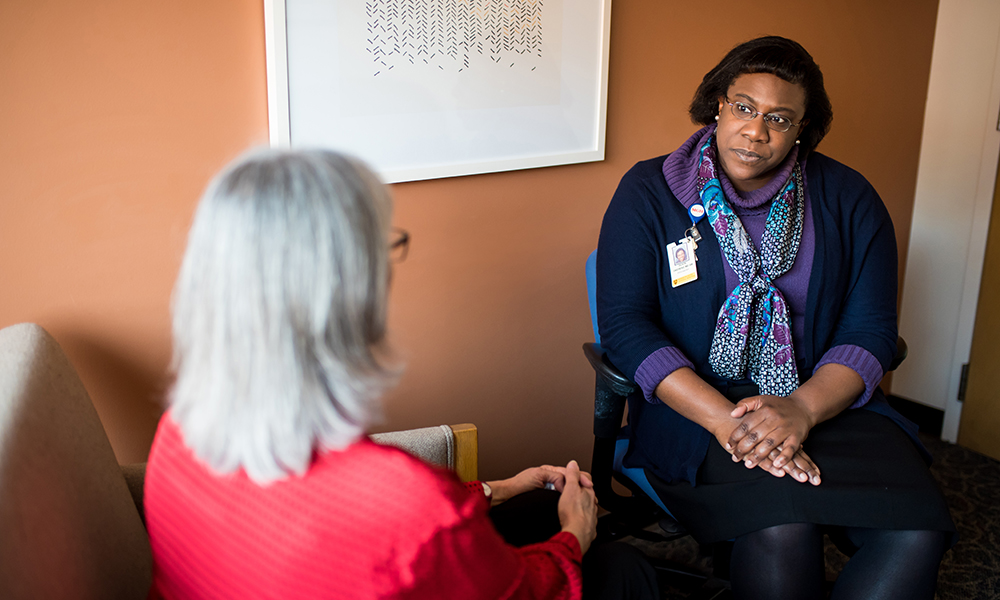 Contact Information
Adult Outpatient Psychiatry Services
Wang Ambulatory Care Center
55 Fruit Street
Boston, MA 02114

Explore This Treatment Program
Specialized Care for Psychiatric Disorders
Adult Outpatient Psychiatry Services at Massachusetts General Hospital include the psychiatric clinical services centered around the 8th floor of the Wang Building. These services include the Primary Care Psychiatry Group, which receives referrals from Mass General primary care physicians, psychiatry resident training clinics and the Urgent Care Clinic.
We provide state-of-the art treatments, including cognitive behavioral therapy (CBT), dialectical behavioral therapy (DBT), couples therapy, family psychotherapy and group therapy. Our services include specialized clinical and clinical research programs for a variety of disorders, including:
Anxiety
Bipolar disorder
Depression
Eating disorders
Geriatrics
Obsessive-compulsive Disorder (OCD)
Schizophrenia and psychosis
Substance use disorders
Coordinated Care for Related Medical Issues
Adult Outpatient Psychiatry Services also provides specialized psychiatric services through the Psychiatry and Medicine Program for patients facing psychiatric complications along with other medical issues. This program includes specialized care for patients with burns and related trauma, cancer, HIV and AIDS, transplants, heart issues and more.
Treatment Programs
Adult Outpatient Psychiatry Services provide clinical care, teaching and research focusing on specific psychiatric disorders and treatment techniques.
Disorder-based Programs
Mood & Anxiety Disorders
Dauten Family Center for Bipolar Treatment Innovation
Depression Clinical and Research Program
Center for OCD and Related Disorders (CORD)
Care for OCD, body dysmorphic disorder, trichotillomania and tic disorders.
Center for Anxiety and Traumatic Stress Disorders
Care for panic disorder, generalized anxiety disorders, social anxiety disorder and post-traumatic stress disorder (PTSD).
Substance Use Disorders
Center for Addiction Medicine
Clinical evaluation, consultation and study-related clinical care for substance use disorders in a multidisciplinary setting.
West End Clinic
Care for adults with substance use disorders and co-morbid psychopathology.
Addiction Recovery Management Service
Treatment and recovery management services for patients under age 25 struggling with substance-related problems and their families.
Eating & Weight Disorders
Eating Disorders Clinical and Research Program
Outpatient services for patients with anorexia nervosa, bulimia nervosa, binge-eating disorder and disordered eating contributing to obesity.
Psychosis Disorders
First-episode and Early Psychosis Program
Treatment for patients in the critical early stages of schizophrenia or related psychotic illnesses.
Schizophrenia Consultation and Second Opinion Service
Clinical information and guidance to patients with actual or suspected schizophrenia and related disorders.
Technique-based Programs
Behavioral Medicine Program
Specialized care at the intersection of psychology and health for patients impacted by both medical and psychiatric conditions.
Cognitive Behavioral Therapy (CBT)
Specialized CBT for the treatment of psychiatric disorders and medical issues.
Couples and Family Psychotherapy
Consultation, referral and therapy services for the OPD, as well as training for faculty, psychiatry residents and psychology interns.
Dialectical Behavior Therapy
Instruction in emotional regulation techniques that are rooted in cognitive behavioral and acceptance based strategies.
Psychodynamic Psychotherapy
Patients are engaged in a relationship with the clinician that allows both to explore the less conscious meanings of a patient's basic assumptions and to try out better alternatives.
Population-based Programs
Geriatric Psychiatry
Specialized care for older patients, including the diagnosis and treatment of mood and anxiety disorders, memory disorders, substance use disorders and personality disorders. Treatment options include psychopharmacology, individual psychotherapy, group psychotherapy, psychosocial assessment and management and family intervention.
Women's Mental Health
Evaluation and treatment for women who suffer from mood and anxiety disorders associated with reproductive life events, including PMS, psychiatric illness during pregnancy, postpartum mood and anxiety disorders and perimenopausal mood disturbances.
Primary Care Psychiatry Service
A liaison to the Mass General's Internal Medicine Associates and other primary care practices. The service is one of the first of its kind in the US, founded on the recognition that stress-related medical illnesses predominate in the primary care setting.
Medical Psychiatry Specialty Programs
Adult Outpatient Psychiatry Services provides specialized services for medical patients facing neuropsychiatric complications the Division of Psychiatry and Medicine. We work in collaborations with clinicians across other medical services to provide treatment for patients struggling with:
Cancer (particularly breast, brain, genitourinary, gastrointestinal, head and neck, bone marrow transplants)
Transplants (including heart, lung, renal, liver)
Pain
Neuropsychiatric issues
Sexual dysfunction
Psychological Testing
High Intensity Services
Psychiatry Urgent Care Clinic
Specialized care for patients in crisis. This clinic receives referrals primarily from the Acute Psychiatry Service and Mass General outpatient primary care practices. In limited circumstances, the Urgent Care clinic also serves as a short-term bridge between discharge from the inpatient unit and planned follow-up care in the community.
Intensive Outpatient Program
Services to individuals diagnosed with primary substance use disorders, though most patients also have significant co-morbid medical conditions including pain, hepatitis C, liver disorders and HIV. This program is run by the West End Clinic.
Transitional Age Youth Intensive Outpatient Program
Program for patients 18-25 with a variety of psychiatric conditions. The program involves a 16-week treatment course, with gradually decreasing intensity over the course of those 16 weeks, including an early recovery skills group and a relapse prevention group.
Pioneering Psychiatry Research
The integration of patient care and clinical research has been a hallmark of the Department of Psychiatry for more than 30 years. Today, the department has the largest clinical research program in the hospital, with studies at the forefront of neuroscience, molecular biology and genetics.