Enroll or Sign In
Sign in or enroll to request appointments and communicate with your care team via Patient Gateway.
Patient Gateway provides secure online access to your health information whenever you need it. Check upcoming appointments, communicate with your doctor's office, review medications and pay medical bills—all seamlessly online 24/7.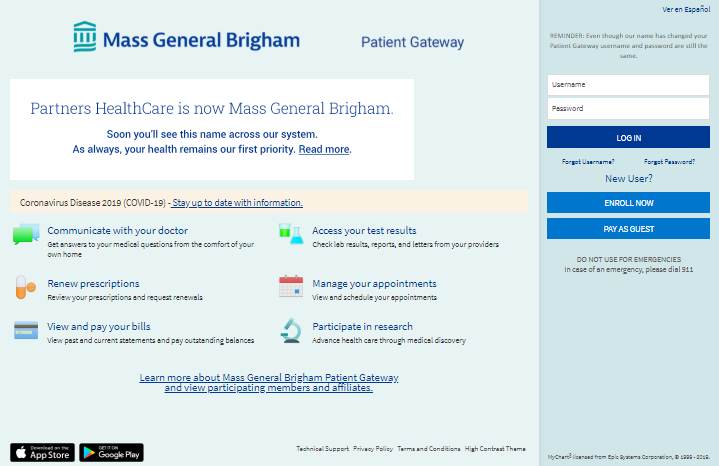 Connecting with your doctor's office has never been easier. Through Patient Gateway, you can:
Check lab and imaging results, as well as letters and other reports from your providers
Access your health information from a non-Mass General Brigham institution if they are using the same electronic health record vendor (known as Epic)
Send non-urgent messages to your provider's office
Request and view appointments, or make your own appointments (available at select offices)
Receive summaries of your visits
View, update or renew medications
Pay your medical bills online
Browse a library of trusted health information
Update your contact information
Complete questionnaires prior to your next visit
If applicable, enroll as a proxy representative when caring for a loved one or minor
Go green and conserve paper
Enroll in Patient Gateway Today
Schedule an Appointment (Current Patients)
The following Mass General offices offer Direct Scheduling for current patients via Patient Gateway:
Primary Care:

Ambulatory Practice of the Future
Back Bay
Beacon Hill
Downtown
Waltham

Department of OB/GYN (Boston main campus only)
Allergy & Clinical Immunology Unit
Neuroendocrine Unit
If you are a current Mass General patient within these practices, you may be able to schedule your next appointment with Patient Gateway's online scheduling system.
How to schedule an appointment through Patient Gateway:
Click the "Appointments" tab, then select "Schedule an Appointment"
Follow the prompts to select an appointment time that works best for you. Once you've completed all the prompts, your appointment will be scheduled
Download Our App
Patient Gateway is also accessible via our app for iPhone or Android.
Please note: Even if your practice does not offer Patient Gateway, you can still use it to view your health information. If your practice or provider is not listed on Patient Gateway's enrollment page, simply select "Medical Records, MGH."
Using the Apple Health App
iPhone® users receiving care at Massachusetts General Hospital and all other Mass General Brigham entities can now use the Apple Health app to access and visualize key parts of their current health records, including allergies, conditions, immunizations, labs, medications, procedures and vitals. The Apple Health app allows users to combine health records from multiple care providers.
To begin, open the Apple Health app, navigate to Health Records, select the institutions from which you wish to download your data, and follow the instructions.
The app is available to patients with an iPhone running iOS 11.3 or later.
We are proud to be one of the first organizations to enable this capability for patients.
Read more about health records on iPhone
COVID-19 Resources for Mass General Brigham Patients
If you are an established patient and do not have a primary care provider, or are unable to reach them, there are other resources for you.
Award-winning Medical Care
Mass General is recognized as a leader in patient care, education and research, and ranks among the most prestigious medical institutions.
Enroll or Sign In
Sign in or enroll to request appointments and communicate with your care team via Patient Gateway.