treatment
treatment
surgery;gastrointestinal-oncological-surgery
c
true
Colorectal Surgery Program
The Colorectal Surgery Program offers expert surgical care, including minimally invasive procedures and sphincter-sparing procedures, to treat conditions affecting the intestinal tract, colon and rectum, anal canal, and perianal area.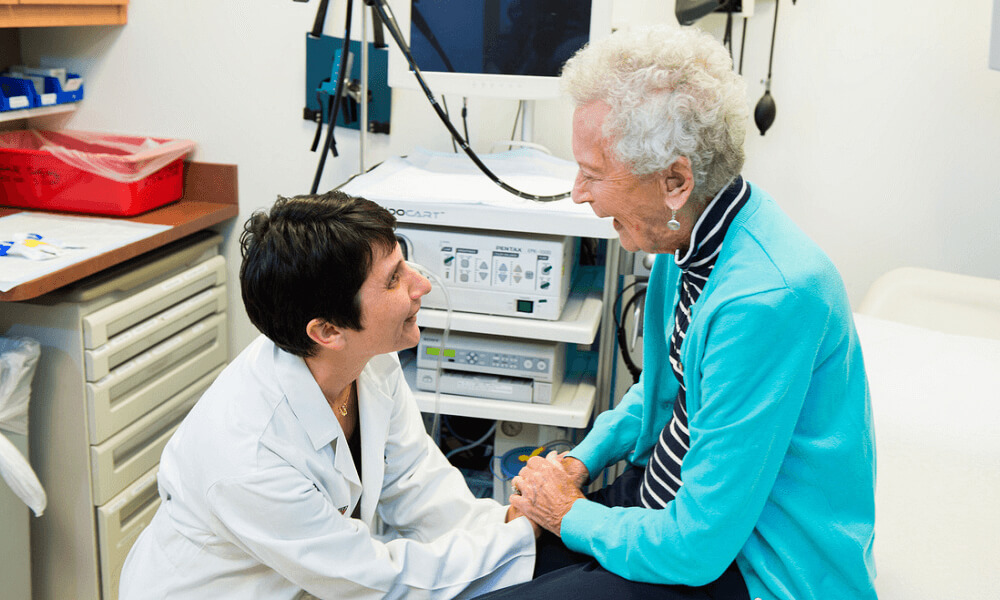 Contact Information
Colorectal Surgery Program
Wang Ambulatory Care Center, Suite 460
55 Fruit Street
Boston, MA 02114

Phone: 617-643-5166

Additional Locations
Mass General Waltham
52 Second Ave.
Waltham, MA 02451
Mass General/North Shore Center for Outpatient Care
102-104 Endicott St.
Danvers, MA 01923
Newton-Wellesley Hospital
2000 Washington St.
Newton, MA 02462
Salem Hospital
81 Highland Ave.
Salem, MA 01923
If your insurance plan requires you to obtain a referral from your primary care physician, please obtain it before making your appointment.
About the Colorectal Surgery Program
Located within a world-class academic medical center, the Colorectal Surgery Program in the Division of Gastrointestinal & Oncologic Surgery at Massachusetts General Hospital offers state-of-the-art surgical services for conditions affecting the affecting the colon, rectum, intestinal tract, and anus.
Leaders in Colorectal Surgery
Colorectal surgery requires advanced training in both general surgery and the treatment of colon and rectal problems, and a highly focused clinical practice dedicated to colorectal disease management. Our surgeons are board-certified, Harvard Medical School-affiliated physicians who perform some of the highest volumes of colorectal surgery in New England—including through minimally invasive approaches such as laparoscopic and robotic colorectal surgery. Research shows that high-volume experience results in improved outcomes for patients.
In addition to holding leadership positions in distinguished surgical organizations, each of our surgeons is a member of the American Society of Colon and Rectal Surgery. Mass General surgeons actively conduct world-leading research to find new and better ways of preventing and treating colon and rectal diseases, and are dedicated to educating and mentoring the next generation of colorectal surgeons.
Multidisciplinary Colorectal Care
As part of our approach to care, we work closely with specialists from the  Digestive Healthcare Center, Pelvic Floor Disorders Center, Crohn's and Colitis Center, and Cancer Center, as well as endoscopists, gastroenterologists, gastrointestinal and interventional radiologists, gynecologists, neurologists, oncologists, physical therapists, radiation oncologists, and other colorectal specialists throughout Mass General.
Whether your condition requires care from one specialist or an entire team, we work together to develop a personalized care plan to treat your condition.
Caring for Older Patients Undergoing Colorectal Surgery
Older adult patients are increasingly undergoing surgical procedures more safely, particularly for colorectal diseases, as a result of the Mass General Perioperative Optimization of Senior Health (POSH) Clinic. Led by Hiroko Kunitake, MD, MPH, the POSH Clinic connects older surgical patients with a multidisciplinary team that reviews all aspects of their health to help them prepare for surgery and ensure a smooth recovery after surgery. This tailored, comprehensive care approach involves personalized assessments and implementation of risk-reduction strategies before, during, and after surgery.
Caring for Young Patients with Colorectal Cancer
Colorectal cancer is rising for patients younger than 50. Our multidisciplinary team of experts at the Mass General Cancer Center expertly care for young adult patients with colorectal cancer throughout all phases of diagnosis, treatment, and survivorship.
Learn more about care for young adult patients
Expert Care, Close to Home
Patients who live outside of Boston have the option to receive surgical care for colorectal conditions at locations that may be closer to home. Our team provides comprehensive, accessible surgical care to patients in Newton, Waltham, Danvers, and Salem, MA.
Learn more about community surgery
Conditions We Treat
Mass General is a major referral center for the full range of colon and rectal conditions, such as:
Anal problems such as hemorrhoids, fissures, anal fistulas, recto-vaginal fistulas, and anal dysplasia
Anal cancer
Colon cancer, rectal cancer, and colorectal polyps
Diverticular disease, including diverticulitis
Inflammatory bowel diseases, including Crohn's disease and ulcerative colitis
Parastomal hernia
Pelvic floor disorders, including pelvic organ prolapse, fecal incontinence, and constipation
Stoma complications (a permanent or temporary opening in the abdomen such as a colostomy or ileostomy)
Appendix cancer
Peritoneal spread of colon, rectal, and appendix cancer
Our Colorectal Surgical Techniques
Laparoscopic Surgery

Laparoscopic colorectal surgery, a type of minimally invasive surgery, encompasses a variety of techniques that offer an alternative to open surgery, ultimately allowing for colorectal surgeons to treat conditions via smaller incisions using delicate tubes, cameras, and other surgical instruments. In general, minimally invasive surgery is associated with less pain, a shorter hospital stay, and fewer complications.
Robotic Surgery

Another type of minimally invasive colorectal surgery is robotic surgery. Mass General is home to the fastest growing robotic surgery program in New England, and colorectal surgery is one of several surgical specialties that can be performed robotically. Using the robot, our colorectal surgeons have enhanced three-dimensional visuals of the surgical area, more delicate surgical precision, and a superior range of motion in hard-to-reach spaces in the human body. Benefits of robotic surgery include smaller incisions, minimal scarring, and quicker recovery.

Whenever possible, Mass General colorectal surgeons will recommend robotic colorectal surgery to treat your condition. To make the final determination, they will consider your health history, lifestyle, and goals for treatment.
Traditional Surgery

In cases when minimally invasive techniques are not recommended, traditional colorectal surgery will be offered as a safe, effective approach. Also known as an open surgery, traditional surgical techniques involve a larger incision to allow full access to the affected area.
Transanal Surgery

Mass General colorectal surgeons are also experts in transanal endoscopic surgery, using techniques such as transanal endoscopic microsurgery (TEM) and transanal minimally invasive surgery (TAMIS). In this way, they are able to remove rectal tumors without needing to make any incisions on the abdomen. These techniques also help spare some patients from needing to have their entire rectums removed for certain types of rectal tumors.
Sphincter-sparing Surgery

Our colorectal surgeons also specialize in techniques that preserve the anal sphincter, allowing for restoration of bowel continuity and, in some cases, avoiding the need for permanent ileostomies or colostomies. For example, for certain patients with low rectal cancers, our surgeons can perform transanal total mesorectal excision (taTME) and colo-anal anastomoses, which allows patients to avoid permanent colostomies.
Our Colorectal Surgical Procedures
Anal Fistula Repair

An anal fistula is an irregular tunnel that develops between the anal canal and the skin near the anus. It often occurs when an anal gland becomes clogged and later infected, leading to an abscess.

Surgery is almost always needed to cure an anal fistula. An anal fistula repair can be performed by either surgical opening of an anal fistula (fistulotomy), less invasive techniques such as anal fistula plugs, or a ligation of intersphincteric fistula tract (LIFT) or endorectal advancement flap procedure. Most patients can go home the same day.
Colectomy

Colectomy, or a colon resection, is a surgical procedure in which all or part of the colon (large intestine) is removed. The surgeon will often reconnect the remaining parts of the colon to ensure normal bowel function.

Colectomies are performed for various reasons, including to treat colon cancer, inflammatory bowel disease (IBD), and diverticulitis. The type of colectomy performed may also depend on the location of the affected area in the colon.

Colectomies can be performed by traditional, laparoscopic, or robotic surgery. Your physician will determine which type of surgery is best for you.
Cytoreduction and Hyperthermic Intraperitoneal Chemotherapy

Cytoreductive surgery (CRS) is a procedure to remove cancer that has spread to the abdomen, a type of cancer known as peritoneal carcinomatosis. Many patients with this cancer are told that surgery will not completely remove it. However, CRS can be effective for some patients when done by specialized surgeons. During CRS, hyperthermic intra-peritoneal chemotherapy (HIPEC), a heated medication, is sometimes used. The surgery and the medication work together to eliminate the cancer cells.
Ileoanal J-Pouch Creation

For patients with ulcerative colitis or familial adenomatous polyposis—both of which often require surgical removal of the entire colon and rectum—bowel function can be restored by fashioning a pouch using the small intestine (J-pouch) to create a reservoir that holds stool, similar to a rectum. This procedure enables patients to avoid permanent ileostomies (stomas).
Parastomal Hernia Repair

Parastomal hernias, bulges that occur around ileostomies and colostomies (stomas), can expand over time. These hernias can be repaired with and without mesh, and sometimes involve moving the stoma to a different location on the abdomen.
Proctectomy

A proctectomy is a surgical procedure to remove all (total proctectomy) or part (partial proctectomy) of the rectum, which is the lowest part of the colon (large intestine). During a proctectomy, Mass General surgeons work hard to preserve the many important pelvic organs surrounding the rectum.

Proctectomy is a surgical treatment for rectal cancer and inflammatory bowel diseases (IBDs) such as Crohn's disease.

After a proctectomy, a patient may have a permanent or temporary opening (stoma) in the abdomen as a new way for stool to flow out of the body and into a disposal bag. The colorectal surgeons at Mass General are focused on sphincter-sparing procedures to preserve the muscles that are responsible for closing openings such as the anus.

Proctectomies can be performed by traditional, laparoscopic, or robotic surgery. Your physician will determine which type of surgery is best for you.
Rectopexy

For patients with rectal prolapse, MGH colorectal surgeons participate in the MGH Pelvic Floor Center, where we have a multidisciplinary approach to treating patients with pelvic organ prolapse. For those patients who require surgery, we offer suture rectopexies and ventral mesh rectopexies, which involve pulling the rectum up and securing it to the sacrum. This procedure can be done traditional, laparoscopic, and robotic, and is often done as part of a combined procedure with MGH urogynecologists if patients also need suspension of their cervix.
Sacral Nerve Stimulation

Implantation of sacral nerve stimulation (SNS) devices has been shown to help treat fecal incontinence, which is the inability to control bowel movements. Mass General is one of the few hospitals in Massachusetts to offer this procedure that helps countless patients, particularly older women who have had children.
Sphincteroplasty

A sphincteroplasty is surgery to repair torn or weakened anal sphincters, which are the muscles that control bowel movements. This is a common procedure for women after childbirth and fecal incontinence. During a sphincteroplasty, the surgeon will repair the torn ends of the muscle by stitching them together. In some cases, a tissue graft may be needed to reinforce the repair.

Mass General is one of the few hospitals in New England to offer placement of an artificial bowel sphincter (ABS) for patients who cannot have a sphincteroplasty as another treatment for severe fecal incontinence.
Stricturoplasty

A stricturoplasty is a surgical procedure to correct a narrowing in the intestine where tissue scarring has occurred and is preventing normal intestinal function (digestion). This procedure is a less invasive alternative to traditional removal of the narrowed portion of the bowel and aims to improve a patient's quality of life.

Stricturoplasty is a surgical treatment for inflammatory bowel diseases (IBDs) such as Crohn's disease.
Total Mesorectal Excision

Total mesorectal excision (TME) is a robotic procedure to treat rectal cancer by removing the area of the rectum with the tumor along with the surrounding lymph nodes and blood vessels (mesorectum).

This surgery requires particular precision to ensure that bowel and bladder function is preserved, and use of the robot allows the surgeon to more precisely visualize and remove the tumor through a smaller incision. This technique is associated with better survival, lower recurrence, and improved sphincter preservation when compared with traditional techniques.
Transanal Endoscopic Microsurgery

Transanal Endoscopic Microsurgery (TEM) is a minimally invasive procedure in which colorectal surgeons laparoscopically remove rectal tumors that are too high up in the rectum to be removed through other surgical approaches, and to remove rectal polyps that are suspected of being early-stage rectal cancer.

During TEM, the rectal tumor or polyps are removed through the anus, thus avoiding painful abdominal incisions and damage to the surrounding tissue. Mass General is one of the few U.S. hospitals offering this leading-edge procedure.
Ensuring Excellent Outcomes for Colorectal Surgery
A Digital Resource to Help You Prepare for Surgery
Preparing for surgery can be stressful. To support patients undergoing colorectal surgery at Mass General, our research team has designed an app that provides easy-to-understand information for every stage of the surgical journey. You will receive access to this app once a date for your surgery has been scheduled. The information on the app was created by our dedicated team of surgeons and researchers to help patients effectively prepare for surgery and recovery at home.
The app includes the following features:
Written instructions and videos to explain what to expect before, during, and after surgery.
Reminders for when to take medications, for upcoming appointments, and more.
Your doctor's contact information so that you always know who to contact when you need help.
Surveys to help our team monitor your recovery and progress after surgery.
Patients can use the app on whichever device is most comfortable to them, such as a mobile phone, tablet, or desktop computer. Patients with landline phones can listen to recordings of the information.
Our team is also working on improving the app to provide more information and support for caregivers as they assist their loved ones through the surgical journey.
If you are interested in supporting this research effort, please click here to learn more.
How to Prepare for Colorectal Surgery
As part of ERAS, Mass General has created a variety of materials to help you prepare for your procedure, ensure better recovery, and return to normal life as soon as possible.
Click the links below to watch a series of short videos about how to prepare for surgery and improve your recovery. These videos are offered in multiple languages:
Recovery after Colorectal Surgery
Across all Mass General Brigham institutions, leveraging evidence-based best practices in surgery is the standard of care for all scheduled colorectal surgeries. The mission of our Enhanced Recovery After Surgery (ERAS) program is to empower patients to be active partners in their own care and recovery with the overall goal of ensuring an excellent surgical experience and return to normal life as soon as possible. 
ERAS protocol has shown to:
Reduce complications
Decrease wound infection rates
Shorten the length of hospital stay following colectomy and proctectomy procedures
The implementation of ERAS as a surgical standard across Mass General Brigham was the result of the success of Mass General's  ERAS program for colorectal surgery, launched by a team led by Liliana Bordeianou, MD, MPH.
If you are planning to have surgery and have received your preoperative instructions and prescriptions from your surgeon, please pick up your supplies from the  Mass General Pharmacy  or elsewhere.
Colorectal Procedure Kits
To patients preparing for colorectal surgery, the Mass General care team will provide a free Surgical Site Infection Prevention Kit (SSIPK). All patients who are scheduled for elective colorectal procedures will receive an informative guide and a kit with:
Instructions on how to use its contents
Instructions on how to watch videos about ERAS
Oral antibiotics
A bowel preparation formula
A chlorhexidine antimicrobial body wash
Complex carbohydrate beverages
The use of the kits among Mass General colorectal surgery patients has been shown to significantly reduce:
Infections at the site of surgery
Anastomotic leaks
Unplanned readmissions
The time a patient is required to remain at the hospital following surgery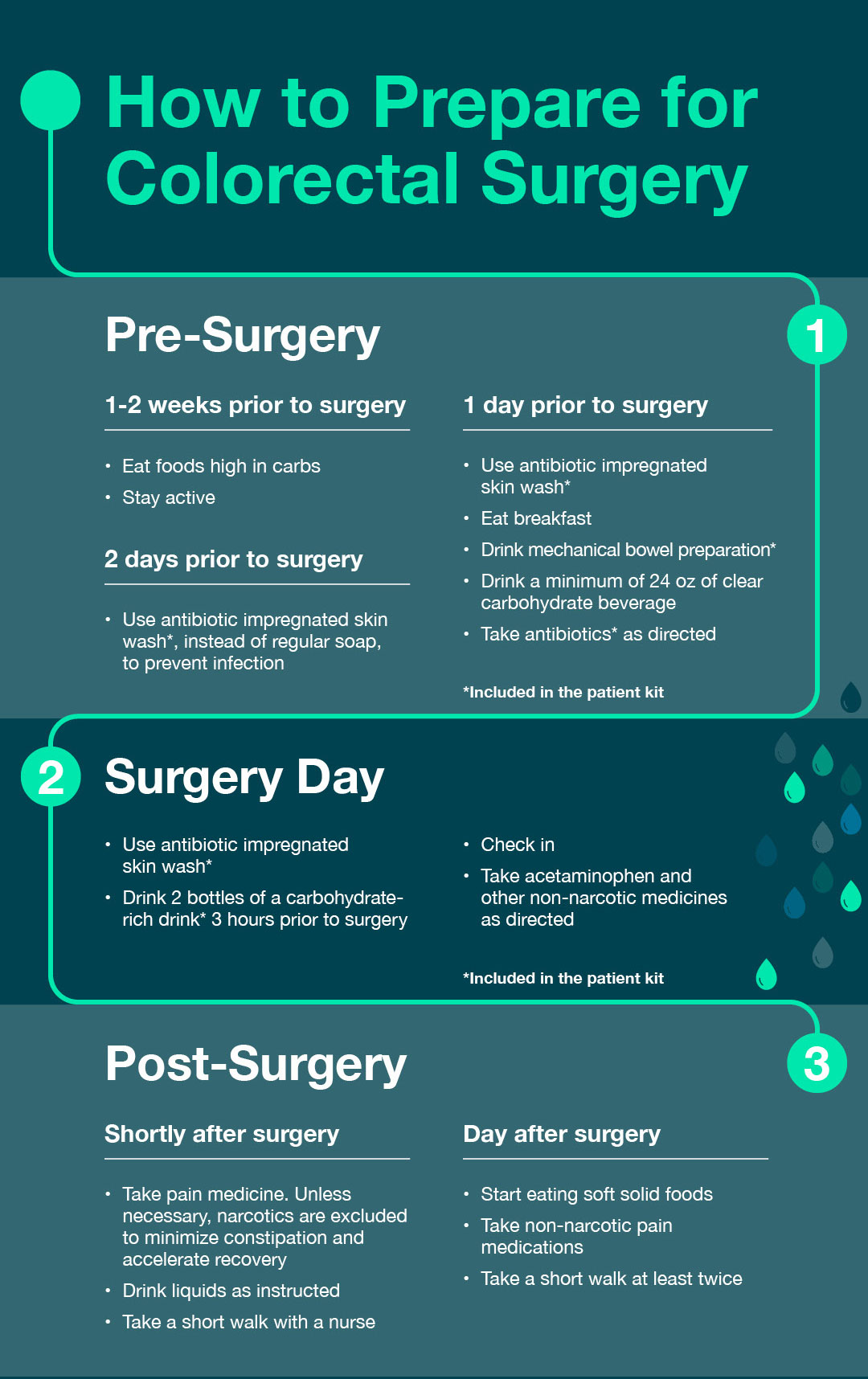 High Marks in Surgical Quality
The Mass General Department of Surgery and Codman Center for Clinical Effectiveness have been consistently recognized for meritorious outcomes in surgical patient care from the American College of Surgeons National Surgical Quality Improvement Program (ACS NSQIP). Hospitals achieve this distinction based on composite quality score in the outcomes in mortality and complications such as cardiac, respiratory, unplanned intubation, ventilator greater than 48 hours, renal failure, surgical site infections, and urinary tract infections for all surgery cases.
This recognition reflects the outstanding performance of the hospital's surgical teams in providing patient care at many levels. This distinction goes to only approximately 10% of the 680 participating hospitals entering data into NSQIP.
Patient Stories
Alexa Morell
Diagnosed with young-onset colorectal cancer at 29 years old, Alexa shares her journey navigating motherhood, cancer treatment, and advocating for others.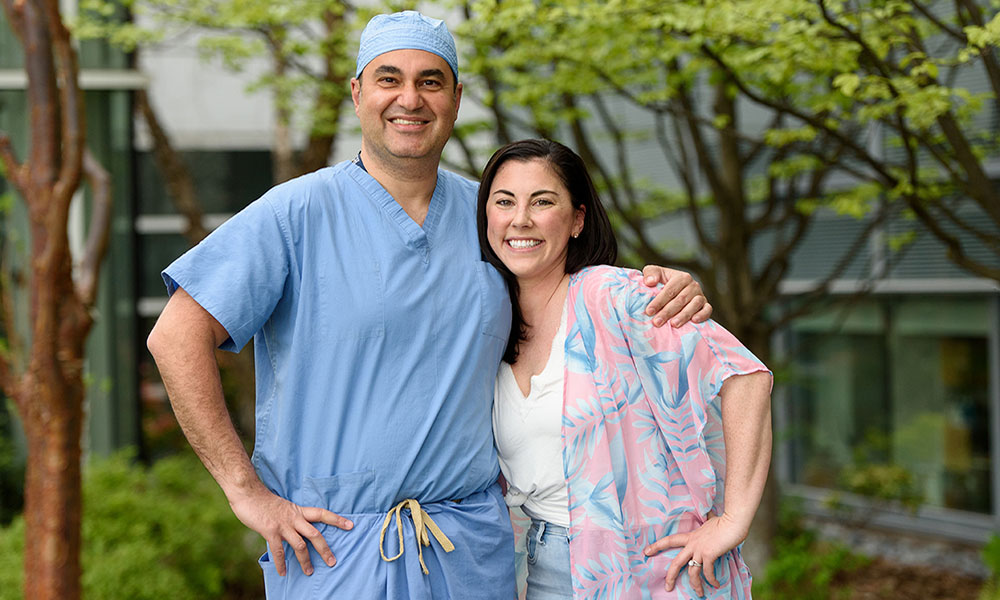 Rick & Sally Mastalerz
A colon cancer diagnosis was no match for airline pilot and member of the Air National Guard, Rick Mastalerz. Read about Rick and his wife Sally's cancer experience at the Mass General Cancer Center.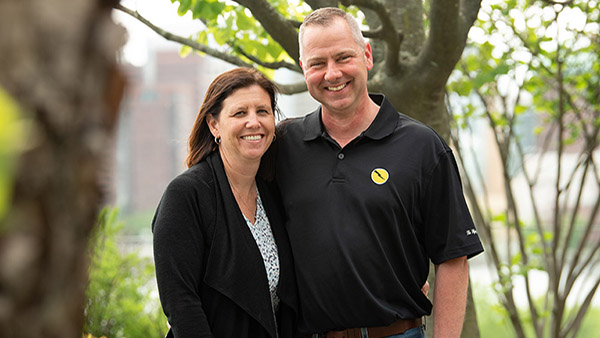 Lauren Hindman
As a patient in the Center for Young Adult Colorectal Cancer, Lauren formed a close relationship with her surgeon and, together, they navigated the impact colon cancer had on her.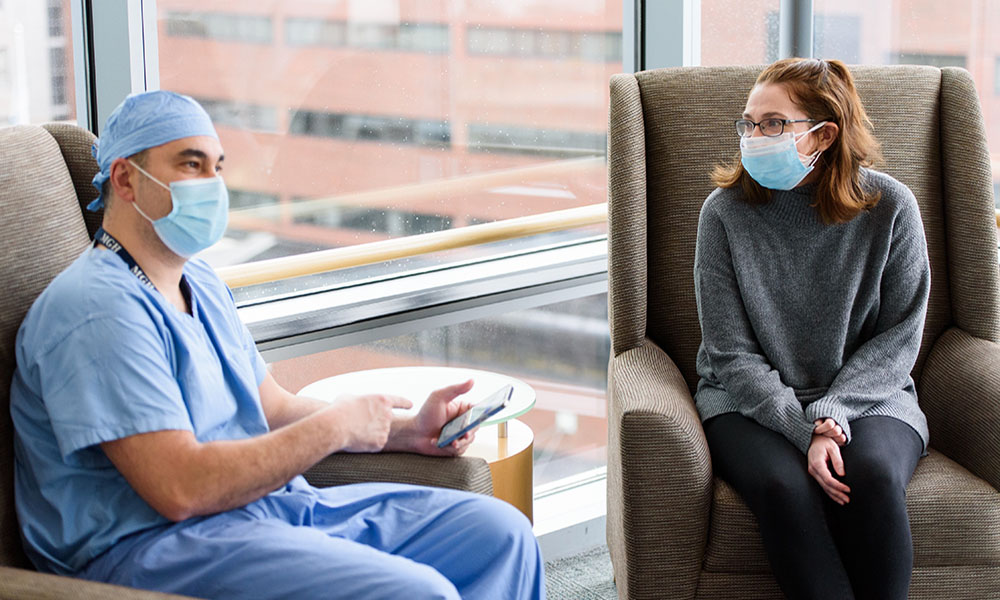 ---
Mass General Center for Pelvic Floor Disorders
The Pelvic Floor Disorders Center at Mass General brings together a multidisciplinary team of specialists. This team works together to treat the complex and often interconnected problems that cause pelvic floor disorders. The center's treatment philosophy is built upon a foundation of honest, open communication with every patient. In this video, learn more about the center and its specialists.
---
Our Colorectal Surgeons
Our surgeons are board-certified, Harvard Medical School-affiliated physicians who perform some of the highest volumes of both traditional and minimally invasive colorectal surgery in New England.
---
Advanced Practitioners
Colorectal Surgery Frequently Asked Questions
What is colorectal surgery? Why would I need to see a colorectal surgeon?

Colorectal surgery encompasses a range of open and minimally invasive surgical procedures to treat conditions of the intestinal tract, colon and rectum, anal canal, and perianal area.

If you are diagnosed with a colorectal condition—such as colon or rectal cancer, colitis, anal fistulas, etc.—your primary care physician or gastroenterologist may refer you to a colorectal surgeon. If the condition requires surgery, the Mass General colorectal surgery team will work with your primary providers to coordinate your surgical care in alignment with your overall health and goals.
Do colorectal surgeons only treat the large intestine?

Often, colorectal conditions not only impact the colon (large intestine), but also surrounding organs such as the small intestine, pelvic floor, and reproductive organs. Colorectal surgeons are trained in general surgery with a specialization in colorectal conditions, and they are equipped to treat other nearby organs that interact with the large intestine or have been affected by the colorectal disease.
How is colorectal surgery typically performed? Can my colorectal condition be treated by robotic surgery?

Many colorectal conditions can be treated through minimally invasive techniques such as laparoscopic surgery and robotic surgery. Whether or not these techniques are the safest, most effective approach depends on each patient's condition and overall health. Your Mass General colorectal care team will determine the best options in partnership with you.
What can I expect for colorectal surgery?

Every case is unique depending on the patient's history, condition, and overall health. All patients in need of a colorectal operation can expect to undergo an evaluation with our multidisciplinary care team.

We have created a variety of materials to help you prepare for your procedure, ensure better recovery, and return to normal life as soon as possible.

Click the links below to watch a series of short videos about how to prepare for surgery and improve your recovery. These videos are offered in several languages.
Make an Appointment
The Colorectal Surgery Program offers expert surgical care, including minimally invasive procedures and sphincter-sparing procedures to treat conditions affecting the intestinal tract, colon and rectum, anal canal and perianal area.