research
research
research-lab
end-stage-renal-disease-esrd;chronic-obstructive-pulmonary-disease;heart-failure;lung-cancer
thoracic-surgery;surgery
o
true
The Laboratory of Harald Ott, MD
The Laboratory of Harald Ott, MD, is working to develop new tissue engineering strategies for regenerating whole organs and organ grafts as an alternative to donor transplantation.
Contact Information
Ott Laboratory
55 Fruit Street
Boston, MA 02114

Email: hott@mgh.harvard.edu

Harald Ott, MD
Surgeon, Division of Thoracic Surgery, Massachusetts General Hospital
Chief, Mass General Center for Organ Engineering
Associate Professor in Surgery, Harvard Medical School
About the Lab
End organ failure is the leading health care challenge in the western world. Nearly six million Americans suffer from heart failure with about 550,000 new cases diagnosed annually; 25 million Americans suffer from chronic obstructive pulmonary disease (COPD) with an estimated 12 million new yearly diagnoses; and 530,000 Americans suffer from end stage renal disease.
Currently, organ transplantation is the only potentially curative therapy available. However, its outcomes are limited by a shortage of donor organs and the side effects of harsh immunosuppressive treatments designed to prevent the body from rejecting the organ.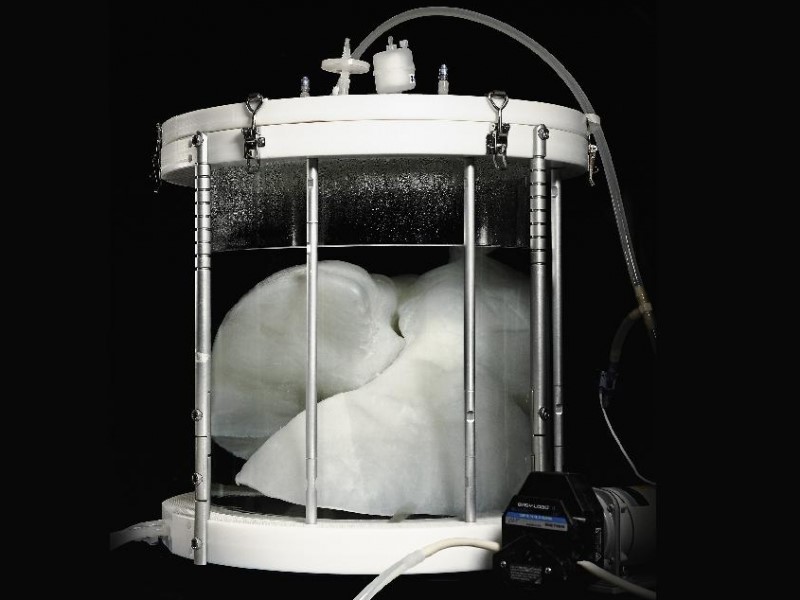 The Laboratory of Harald C. Ott, MD, in the Division of Thoracic Surgery at Massachusetts General Hospital is investigating tissue engineered organs as an alternative to donor transplantation. The goal is to create various whole organs that are derived from a patient's own cells, and transplanting them into the patient, avoiding the need for a donor. This process could address the donor shortages and eliminate the need for immunosuppressive drugs.
The laboratory developed and first reported a novel technique to isolate the whole organ extracellular matrix (ECM) scaffolds by a process called perfusion decellularization.
In preliminary studies, these ECM scaffolds supported engraftment of specialized cells to form viable and functional hearts, lungs, kidneys, pancreas and composite tissue that could be transplanted and function in the body.
Research Projects
Heart Regeneration
The human heart project aims to engineer a bioartificial heart for clinical application and transplantation. The lab uses the native cardiac extracellular matrix (ECM) to support cardiac cell types that work synergistically to generate sustainable ventricular pump function. This project draws from expertise in stem cell biology, developmental biology, physiology, cardiology and biomedical engineering in pursuit of creating a bioartificial heart as an alternative treatment option for patients in need of heart transplants.
Read more on Advances in Motion >
Lung Regeneration
The lung project focuses on deriving a functioning, transplantable human lung by combining native ECM scaffolds and novel recellularization approaches. This project combines expertise in stem cell and developmental biology, molecular biology, lung repair and bioengineering, and seeks to contribute to developing personalized medicine in whole lung regeneration.
Composite Tissue Regeneration
The composite tissue project seeks to engineer complex soft tissue grafts, such as a whole forearm, for the treatment of devastating injuries.
Trachea/Larynx Regeneration
The current treatment of benign and malignant tracheal disorders involves surgically removing the affected area and reconnecting the remaining tissue. This procedure is only possible if the length of the diseased segment is less than half of the trachea in adults or a third of the trachea in children. Conventional allotransplantation of a donor tracheal segment is technically feasible, but requires lifelong immunosuppression and can result in infection, cell death and the failure of the transplant due to improper revascularization and continuous contact with the external environment.
The Ott Laboratory investigates the use of a pressure-decellularization approach to the trachea, and has successfully achieved decellularization of human and porcine tracheas. They are currently investigating the appropriate cells to repopulate these decellularized tracheal scaffolds, in the hopes of regenerating a viably functional trachea that can one day be successfully transplanted into a patient suffering from a tracheal disorder.
Lung Cancer Research
Lung cancer is the leading cause of cancer-related deaths in the United States and represents approximately 14% of all new cancer diagnoses. Survival rates have changed minimally in recent decades in spite of new chemotherapeutic and targeted molecular agents, and advances in surgical treatment. The lab's lung cancer research efforts aim to gain a better understanding of human lung cancer biology by establishing biomimetic three-dimensional culture models that more closely resemble the microenvironment that cancer cells experience in vivo.
These models have the potential to provide new strategies for the treatment of lung cancer and to speed the translation of these strategies into clinical care. This project benefits from expertise in molecular biology, cancer biology, imaging and biomedical engineering.
Notable Contributions and Publications
Cardiac Cell Therapy
Cell therapy and the hope to restore lost cardiac function was an exciting concept during the first years of Dr. Ott's clinical training in cardiac surgery. In collaboration with electrophysiologists, and pharmacologists, Dr. Ott focused on enhancing the effect of injected cells by combining myogenic and vasculogenic cell types. The team further examined the fate changes of cells injected into the damaged myocardium, finding that there was little engraftment and that most effect was derived from humoral factors rather than true myogenesis. This work led Dr. Ott to Doris Taylor, PhD, one of his key mentors in his later work.
Related Publications
Perfusion Decellularization and Cardiac Engineering on Native Matrix
After joining Dr. Taylor's laboratory at the University of Minnesota in 2004, the lab realized that cells alone might not be sufficient to rebuild injured myocardium in longstanding heart failure patients. They began to focus on cardiac tissue engineering and learned that one of the major hurdles toward generation of human scale tissue was the lack of appropriate extracellular matrix scaffolds enabling tissue perfusion, oxygenation, nutrient supply and outlining the complex architecture of the adult heart. They discovered that detergent perfusion with a sequence of SDS and Triton X would yield acellular scaffolds and subsequently engineered contracting rat heart tissue based on this platform.
Related Publications
Organ Engineering
After joining Mass General to train in general and cardiothoracic surgery, Dr. Ott began to focus on establishing the platform character of this technology and applied this approach to several other organ systems including the lung, kidney, pancreas, soft tissue and airway.
Related Publications
Isolated Organ Perfusion
As part of his clinical training, Dr. Ott had the opportunity to rotate to Toronto General Hospital, and learn ex vivo lung perfusion from Dr. Keshavjee's group. This inspired several projects on isolated lung perfusion, which led to the development of several long-term isolated lung culture models.
Related Publications
Mentorship and Training
Dr. Ott provides academic mentoring and research training for surgical residents, post-doctoral fellows and undergraduate students. Recent awards and scholarships that Dr. Ott has helped mentees secure include:
Mendez Foundation Fellowship
Parker Francis Fellowship
L'Oréal Fellowship
Dr. Ott's Current and Past Mentees

Ruth Kroess, graduate student, 2002-2004
Saik Kia-Goh, undergraduate student/research fellow, 2004-2006
Mark Norland, undergraduate student/research fellow, 2004-2006
Justin Halbe, undergraduate student/research fellow, 2004-2006
Gabriel Cabron, undergraduate student/research fellow, 2005-2006
Lin He, undergraduate student/research fellow, 2005-2006
Ben Clippinger, undergraduate research fellow, 2009-2010
Jeremy Song, graduate research fellow, 2010-2012
Bernhard Jank, graduate research fellow, 2011-2013
Sarah Gilpin, PhD, postdoctoral fellow, 2012-2019
Linjie Xiong, MD, PhD, 2012-2016
Jacques Guyette, PhD, 2012-2019
Gabriel Gonzales, PhD, postdoctoral fellow, 2012-2016
Ren Xi, PhD, postdoctoral fellow, 2012-2017
Wenpo Chuang, MD, postdoctoral fellow, 2011-2012
Stephanie Wu, undergraduate student, 2012-2013
Milan Manchandia, medical student, 2012-2013
Atsushi Yasuda, MD, PhD, postdoctoral fellow, 2013-2014
Luis Tapias-Vargas, MD, postdoctoral fellow, 2013-2020
Laura Piechura, MD, Sarnoff fellow, 2013-2018
Jordan Bloom, MD, surgical resident, ACS research fellow, 2014-2018
Kentaro Kitano, MD, PhD, research fellow, 2014-2018
Philip Moser, MD, research fellow, 2014-2019
Hayiang Zhou, MD, research fellow, 2014-2018
Min Wu, PhD, research fellow, 2015-2017
Mattia Gerli, PhD, research fellow, 2015-2018
Antonio Citro, MD, research fellow, 2015-2019
Jun Jie Tan, PhD, research fellow, 2016 2020
Konstantinos Economopolous, MD, PhD, research fellow, 2017-2019
Rui Lin, MD, PhD, research fellow, 2017-2018
Keiji Ohata, MD, PhD, research fellow, 2017-2020
Aneetpal Mattu, BS, Harvard student, 2017-2018
Pooja Major, BS, premed research fellow, 2017-2019
Josh Gershlak, PhD, 2018-present
David Becerra, MD, 2018-2020
Wafa Altalhi, PhD, 2018-present
Helena Linge, 2019-2020
Kenji Miki, PhD, 2019-present
About Harald C. Ott, MD
Harald C. Ott, MD, is best known for his work in whole organ regeneration. He discovered and perfected the method of stripping an organ of its own cells and then infusing the remaining scaffold with new progenitor cells. To date, his technology has been successfully applied to heart, liver, lung, kidney and pancreas regeneration. This method of reseeding and engraftment with native cells potentially eliminates donor organ shortage and the need for life-long immunosuppression in transplant patients, and thus lays the path for effective solutions for the millions of people in need of organ repair or replacement.
Dr. Ott's clinical background in surgery (MD; University Innsbruck in Austria, 2000) and this training have been an asset for his chosen field of scientific research. The privilege to work with patients suffering from end organ failure provides both motivation and inspiration to continue his work in organ regeneration.
#1 Research Hospital in America
Mass General is recognized as a top hospital on the U.S. News Best Hospitals Honor Roll for 2023-2024.
Harald Ott, MD, on Advances in Motion
Advances in Motion highlights the latest breakthroughs, research and clinical trials from Mass General.
Numerous Milestones in Thoracic Surgery
For more than 70 years, patients from around the world have come to the Mass General Division of Thoracic Surgery for surgical care.