Massachusetts General Hospital's leadership team is guided by the hospital's mission to deliver excellence in patient care, advance that care through innovative research and education and improve the health and well-being of the diverse communities we serve.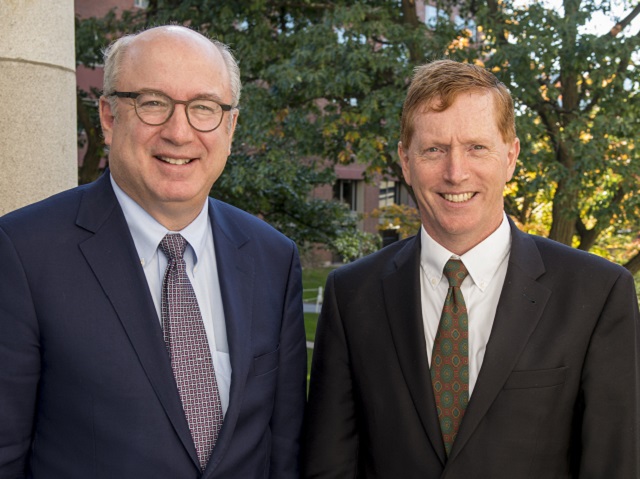 Peter L. Slavin, MD
President
Massachusetts General Hospital
Massachusetts General Physicians Organization
The Massachusetts General Physicians Organization (MGPO) is the largest multi-specialty medical group in New England and one of the largest in the U.S. The MGPO is dedicated to excellence and innovation in patient care, teaching and research. Working in partnership with Massachusetts General Hospital and in cooperation with Mass General Brigham, the MGPO is committed to improving the well-being of our patients, physicians and staff.
Chiefs of Service
Katrina Armstrong, MD, MSCE
Physician-in-Chief, Department of Medicine
Jay Austen, MD
Interim Chief of Oral and Maxillofacial Surgery
W. Gerald Austen, MD
Chairman of the Chiefs' Council
Michael L. Blute, MD
Chief of Urology
James A. Brink, MD
Chief of Imaging
David F. M. Brown, MD
Chief of Emergency Medicine
Bob S. Carter, MD, PhD
Chief of Neurosurgery
Merit Cudkowicz, MD, MSc
Chief of Neurology
Jeffrey Ecker, MD
Chief of Obstetrics & Gynecology
Maurizio Fava, MD
Chief of Psychiatry
David E. Fisher, MD
Chief of Dermatology
Allan M. Goldstein, MD
Chief of Pediatric Surgery and Surgeon-in-Chief, MassGeneral Hospital for Children
Daniel A. Haber, MD, PhD
Director of the Cancer Center
Mitchel B. Harris, MD
Chief of Orthopaedic Surgery
Oluwaseun Johnson-Akeju, MD
Chief of Anesthesia, Critical Care and Pain Medicine
Ronald E. Kleinman, MD
Chief of Pediatric Service, MassGeneral Hospital for Children
Keith D. Lillemoe, MD
Surgeon-in-Chief, Chief of the Department of Surgery
Jay S. Loeffler, MD
Chief of Radiation Oncology
David N. Louis, MD
Chief of Pathology
Joan Miller, MD
Chief of Ophthalmology
D. Bradley Welling, MD, PhD
Chief of Otolaryngology
Ross Zafonte, DO
Chief of Physical Medicine and Rehabilitation
#1 Research Hospital in America
Mass General is the #1 Research Hospital in America and the only hospital to be recognized in all 16 specialties assessed by U.S. News & World Report.